The best way to discovery Mekong Delta is taking a boat and go around to see the local life and daily activities in the river and canals. Moreover, you can also enjoy the beautiful natural landscapes through the boat trip in Mekong Delta.
The main means of transport of most of the families in Mekong Delta provinces is a small wooden boat. This boat is part of the life of the inhabitants of the region with its interlacing rivers and channels just as motorbikes are to Ho Chi Minh City residents. Most boats have engines but visitors sometimes see boats propelled by oars. You may burst out laugh¬ing on seeing the way some boys use their feet to row the boats.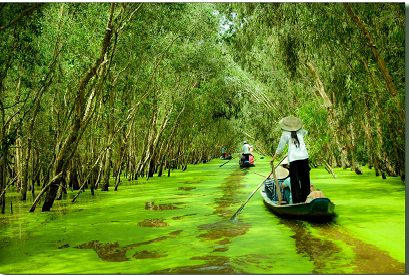 There are always different feelings between traveling on the road and water. Mekong Delta is a region where boats, houses and markets float upon the innumerable rivers. The best way to explore Mekong Delta at its best is river cruise. Most of Mekong Delta tours include river cruise and sampan rowing through small canals.
From the boat, you can see beautiful sights of lush orchards, green or yellow rice paddies, stilts in quiet villages and lines of coconut trees. You can also see brick factory and coconut candy factory along the river. You can see locals go to market or go to school on boats and sampans which make Mekong Delta different from other regions in Vietnam.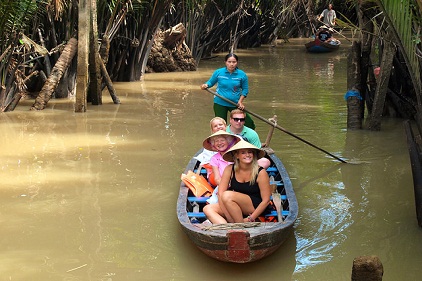 In Mekong Delta, there aren't rivers but also small canals through gardens and villages. Rowing a sampan through zig zag canals under shadow of water coconut trees is one of the most interesting that any tourist shouldn't miss. You will go under small bridges made of bamboo or wood. It's time for you to get closer to lush orchards with various tropical fruits as well as local houses.