Sa Dec is home to many kind of flowers and one of flower centers of South Vietnam. The best time to visit Sa Dec village is in spring when all flowers are blooming and Sa Dec becomes the world of colorful flower.
Sa Dec flower village is located in Tan Qui Dong Commune, Sa Dec Town. This garden occupies 60 hectares with 600 households – 3,600 laborers specialized in growing flowers and ornamental plants. Unlike several other flower cities nationwide, Sa Dec's fields yield flowers all year round.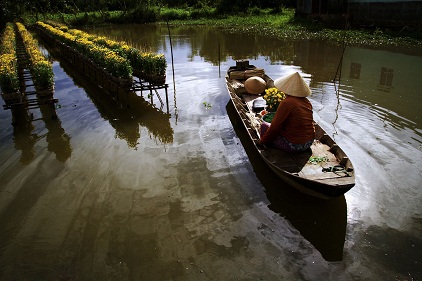 When spring comes, Sa Dec bonsai village also starts its festival. Cars from everywhere come in crowds. All type of flowers and bonsai hasten to go to Ho Chi Minh City and neighboring provinces to boast their beauty in Tet Holiday.
Situated by the bank of annually windy Tien River of fertility and sun, flower village of Sa Dec is the homeland of hundreds "uncanny flowers and strange herbs". Here, you can see scarce and priceless bonsai of hundreds of years old. There are simple trees close to life of laborers like thistle, areca, fig, benjamine fig, ochna atropurpurea and so on. However, through skillful, industrious, talent hands of artisan-artists, they became priceless bonsai with beautiful and uncanny forms.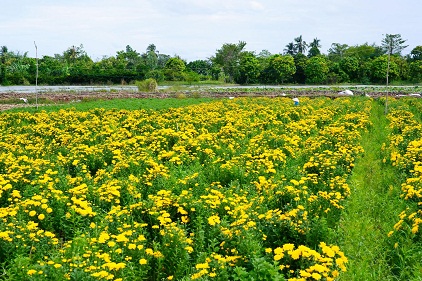 The most typical features of Sa Dec, which is different from other flower villages, is that Sa Dec farmer plant flowers on shelves. According to some old farmers, owners of flower gardens, in the past during flood season they had to move flower pots to higher positions or shelves to avoid being destroyed by water then they changed to plant flowers on shelves. It is rather interesting and impressive when seeing farmers rowing boats on canals to tend or harvest flowers grown on trellises above their head that is only seen in this area.
Coming to the flower village of Sa Dec at anytime of the year, tourists seem to be lost in a fairyland, full of colours and aromas of diverse flowers and plants, namely dahlia, hydrangeas, orchids, areca, wrightia religiosa, Hibiskus rosa-sinensis and African marigold.