Lang Biang is considered as a rooftop of Dalat. To reach the Lang Biang peak mountain, visitors have to walk through the pine forest then open up a majestic landscape. Lang Biang is an attractive destination that you should not miss when traveling to Dalat.
According to the legend, the name Lang Biang was derived from the name a couple who were deeply in love with each other - the boy named K'lang and the girl named Ho Biang. They fell in love with each other after K'lang saved Biang's life from a fierce heard of wolves. However, they weren't allowed to get married due to the long-standing feud between their tribes.
Ho Biang's father was so repentant of his daughter's dead that he unified the tribes into one called K'ho and allowed boys and girls in K'Ho group to get married to each other. Their graves then grew into the two giant mountains, and in order to memorize the couple with profound love, the mountain range was renamed into what we call it today: Lang Biang.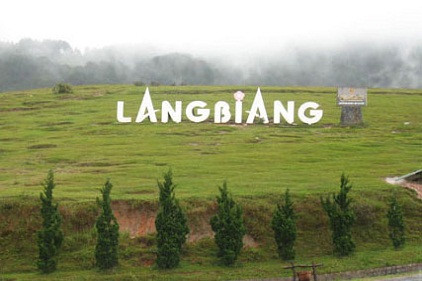 Lang Biang Mountain is the highest point in Lam Dong Province. Covering more than 275,000 ha, the mountain was designated in 2015 by UNESCO as a biosphere reserve.
It covers Bidoup-Nui Ba National Park, one of Vietnam's four natural biodiversity reserves. Lang Biang consists of the two highest peaks: Lang Biang with 2,167m and Bidoup Ban with 2,287m, which is often regarded as the roof of Dalat.
Lam Dong Province has an uneven terrain with 3 plateaus: Lang Bian - Da Lat, Dran - Lien Khuong, B'lao - Di Linh and a tableland, Huai - Cat Tien. Lang Biang plateau in the early 19th century was still a sparsely rugged land with few residents. The local people focus in some villages, the largest is Dankia. Over a century, the face of the Lang Biang Plateau changed much, except for a few places like the Cu hill against drought.
From the center of Dalat city, it took visitors 15 minutes by motorcycles or cars to reach Lang Bian mountain foot where Highland ethnic communities gather, such as Lat, Chil (Coho), etc. Especially, Lach people have lived here for a long time so they are quite close to this mountain.
Tourists can camp overnight, gathers around the fire, drinks some pipe-wine, listens to the folklore song and the sound of Lach traditional instruments. At the campsites, they can eat, drink, sing, and dance all night. In the daytime, tourists are watching Lach girls weaving, and visitors can also purchase their specialties like baskets, or colorful brocades.