Dalat cable car attracts many tourists by an interesting journey to enjoy the beautiful landscapes of the city from the cable car as : Xuan Huong lake, Tuyen Lam lake, Truc Lam pagoda, etc.
4-kilometre cable car. On a clear day you'll be able to see farmland, greenhouses, lakes and distant mountains. The cable car connects Robin Hill, which has the usual cafe and souvenir shop, to Truc Lam Pagoda and Tuyen Lake – both are definitely worth the visit. Robin Hill is three kilometres south of Xuan Huong lake and should be a cheap, quick taxi ride.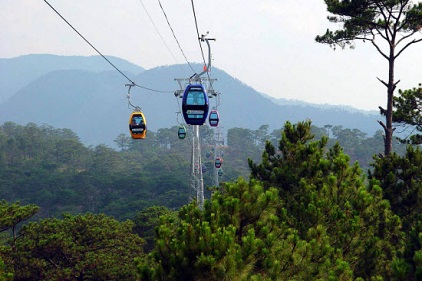 Given that a roundtrip ticket is only 70,000 VND for a round trip, it's more economical to take the cable car to Truc Lam Pagoda and Tuyen Lake, have a walk around and take photos (allow for around half an hour) before riding back to the city. Or to knock off another site, do a one-way ride and from Truc Lam Pagoda, take a taxi to Datanla Waterfall which is three kilometers east.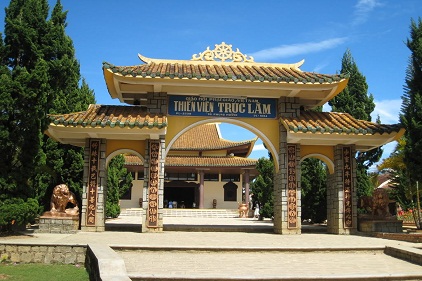 The cable car itself is modern, well-serviced and quite safe. An attendant ushers you in and the doors close automatically as you descend down amongst pines. As your car slides down the cable, roosters crow below, patchwork farms stretch along the countryside and mountains fold atop one another in the far distance.