Mui Ne beach is one of the most famous attractions in Phan Thiet and it has a natural beauty with white sand, blue sea and green coconut tree line along the beach.
The name 'Mui Ne' interestingly has many origins. The first meaning comes from the fishing people in the past. They usually faced sea storms, so they used to hide in a cape, which was called 'Mui' in Vietnamese, and 'hide' meant 'Ne'. The second one originated as the name of the youngest daughter of Cham King – who was known as the owner of this land. Her alias was Ne, therefore, the cape where her temple was built, was called 'Mui Ne'.
Mui Ne is also surrounded by unique natural formations, verdant mountains, and remnants of the ancient Champa Kingdom. The iconic Red and White Sand Dunes both offer a fun-filled day of riding ATVs and sliding down the slopes on plastic sleds while Fairy Stream is a photography hotspot thanks to its dramatic landscape of white and red sand dunes, verdant trees, blossoming flowers, and coconut palms. Another must-visit in Mui Ne is Linh Son Truong Tho Pagoda atop Ta Cu Mountain, which houses Vietnam's largest statue of a reclining Buddha.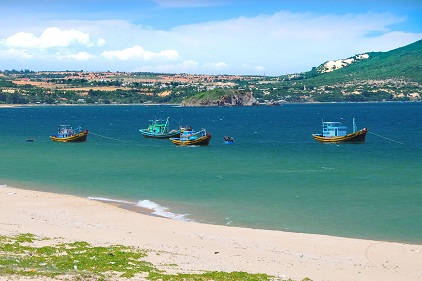 The southern area of Mui Ne Beach is dedicated to swanky retail outlets selling quality beachwear, clothes, local handicrafts, and jewellery. There are also plenty of kitesurfing schools offering short courses and equipment rentals. Thanks to its rock-free waters, Mui Ne Beach is ideal for a day of swimming, kitesurfing, kayaking, and surfing. The best time to enjoy these activities are between the months of November and March, when skies are sunny with strong winds, resulting in optimum temperatures and wave conditions.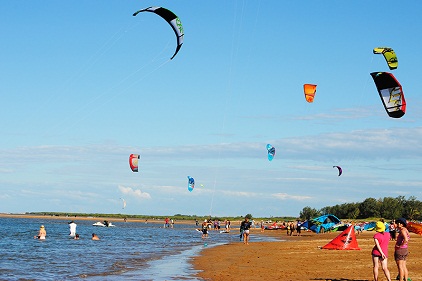 The rock-free water makes it relatively safe for the kite surfers. There are also some Kite Surfing Schools, in which kite surfing starters are helped to launch the kite by beach boys. For starters who want more self-practice, you can try the western part front around Kite Surfing School Windchimes, where there are not many surfers, so that you can avoid unwanted accidents.