White Palace is an European architecture in the late 19th century and it is located on the slope of Large Mountain. It was used to be as a relaxing place for the governor general of Indochina and the Emperor Bao Dai.
The White Palace was constructed in 1898 on the site of a Nguyen Dynasty fortress that was demolished by the French to make way for a retreat for Governor General Paul Doumer.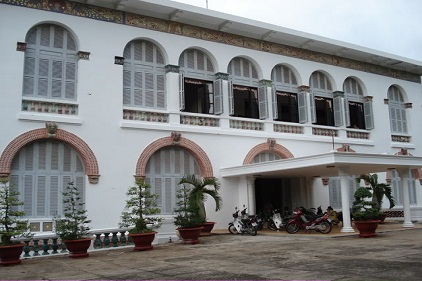 The architecture has 3 storey, 19m high (basement, ground floor and the floor). Around three main walls of the building has 8 stone statues busts art style of ancient Roman Hi-Behind and the White Palace is the right price refugee woods (teak trees) many decades old, have spent way for automobiles and home service system. On the left is the original path when building a house with 146 stairs and forests ancient porcelain.
Initially, it belongs to French Governor General Paul Doumer and was used as summer house. Later, some Indochina – French Governors also used this palace so that its name was changed to Villa du Gouverneur.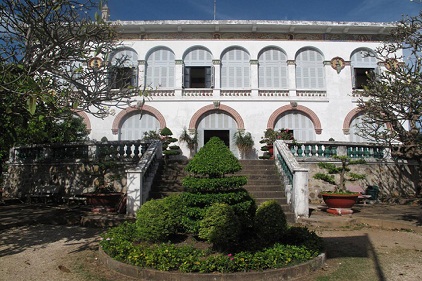 From its balcony there's a panoramic view of Front Beach and opposite the Villa at the foot of that mountain is Hai Nguu islet with a stone rock shaped like a water buffalo wallowing in water. Next to Hai Nguu at the seaside was the helicopter yard.
White spring flowers fragrance. Although construction undertakings White Palace stay here myself, but Paul Doumer was on the French presidential palace before White completed. During the French colonial period and later, under the Republic of Vietnam, the White Palace was used as a resting place for the lifetime of the Governor General of Indochina, President, Prime Minister and other senior generals. King Thanh Thai, a patriot king, the French were dethroned 9-1907 was under detention before being deported here to Reunion Island (Africa).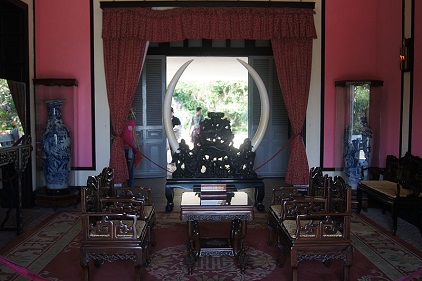 Dated 4-8-1992, the White Palace of Culture and Information Ministry recognized as a historic national culture now on display antiques Bach Dinh Ba Ria-Vung Tau and thousands of artifacts recovered on the shipwreck at sea Hon Cau, Con Dao 17th century. White Palace is one of the most famous monuments and attracts more tourists to visit the city of Vung Tau.