Dinh Cau night market is a famous attraction that you should not miss when traveling to Phu Quoc. Visiting Dinh Cau market, you can not only go shopping with different kinds of goods but also enjoy the fresh seafood.
Hands down the most affordable, atmospheric and excellent place to dine on Phu Quoc island, the night market of Duong Dong town houses approximately a dozen of stalls which serve a tasty range of Vietnamese seafood grills as well as vegetarian options, such as crab chowder, boiled squids, boiled snails, grilled meat, and so on. Clean, spacious stalls, fresh delicious dishes and friendly services are some distinctive features of this night market that create special impressions on a large number of travelers.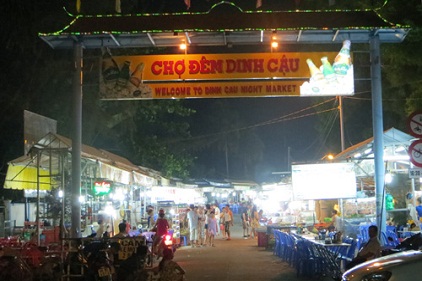 Not only is this market famous for its specialties, but it is also the site where abundant of handicraft products could be found. Travelers could also purchase jewelry as well as souvenirs which are made from starfishes, pearls, shells as gifts for family, friends, and relatives.
In addition, fairs associated with various programs are usually held here, which has strongly attracted a lot of young people to come and enjoy. Despite the fairs are often crowded with pedestrians and audiences, don't worry, they are not disordered or messy at all. Beautiful handicrafts, seafood, and special programs are all the factors which steadily make Dinh Cau Night Market an interesting, worth-visiting place for travelers here and there.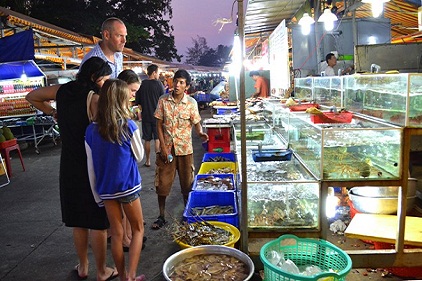 At about 5pm, motorized traffic is shut down in Vo Thi Sau street, and this street then becomes a pedestrian serving street. The market becomes strongly busy at about 7pm so if you really want to get freshest food or take night pictures, you had better arrive early. It is no need for you to ask for permission to take photos because the local vendors are accustomed to it.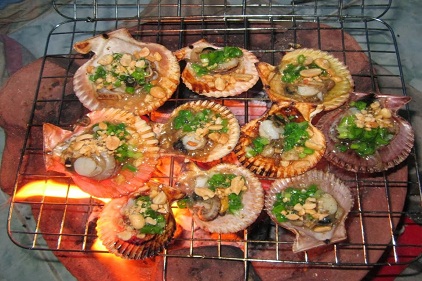 When walking down the market, there are a lot of restaurant salesmen trying to pressure you, as a customer, into purchasing their seafood and some of them are friendly and some are not. Hence, before opting for a restaurant, it is better for you to walk up and down the road to get well oriented. The prices of items sold out here are negotiable, so be flexible.
You also see a large number of fish on display, some swimming around the fish tanks which are aerated and some are laid out on the ice.