Halong Bay
Halong Bay is not only one of the world's natural wonders but also one of the most famous attraction in Vietnam. Halong Bay is attractive and beautiful around the year with thousands of limestone islands, mountains, caves over a vast area in the blue sea. With archeological and geological significance, cultural and historical connections, fresh seafood make Halong Bay become one of the most popular places to visit with domestic and foreign tourists.
Quang Ninh is a large province located along the northeastern coast of Vietnam. The province is home to Halong Bay, a World Heritage Site. The provincial capital is Ha Long. Nearly 80 per cent of the province is mountainous with abundant land, forest water and mineral resources. Nearly 90 per cent of coal output in the country is extracted in this province. Halong Bay has 1,969 islands, out of which 989 have been given names.The province covers an area of 6,099 square kilometres and as of 2008 it had a population of 1,109,600 people.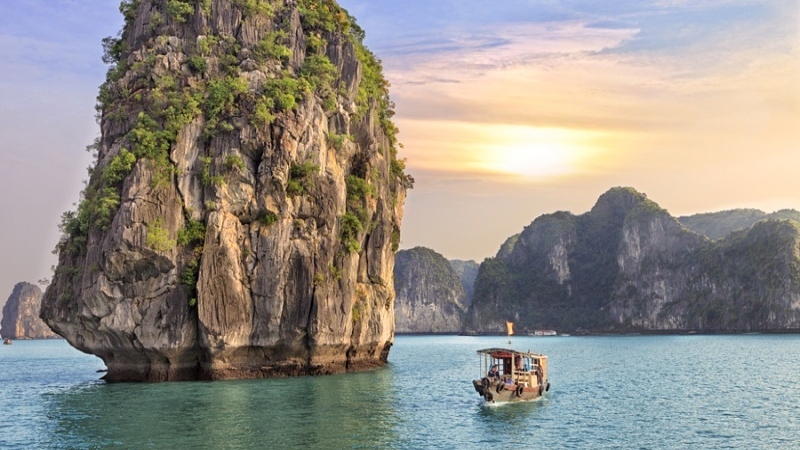 In 2000, the UNESCO's World Heritage Committee has inscribed the Halong Bay in the World Heritage List according to its outstanding examples representing major stages of the Earth's history and its original limestone karstic geomorphologic features. Halong Bay means "descending dragon" and according the local legend, when Vietnam was newly formed, they had to fight against fierce invaders coming from the North through the sea. To assist the Vietnamese in defending their country The Jade Emperor sent the Mother Dragon and her children descending on earth to help ancient Vietnamese people defend the country. With the help of The Mother Dragon and her children, numerous rock mountains abruptly appeared on the sea, ahead of invaders' ships; the forward ships struck the rocks and each other. Thanks to the dragons, the Northern invaders were finally swept away and the peace finally came back the South East Asian country once again.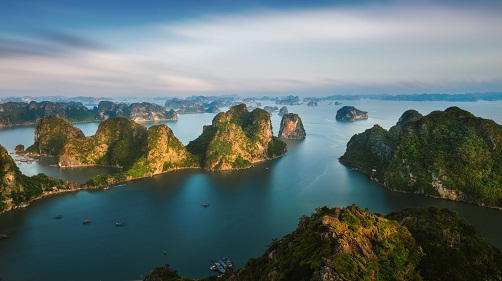 After the battle, The Mother Dragon and her children didn't come back to the heaven, but stayed in the mortal world and turned into human form and help people planting, cropping, raising cattle, reclaiming, and expanding the country. To remember the help of Mother Dragon and her children, the place where the mother dragon descended was named Hạ Long, the place where the dragon's children attended upon their mother was called Bai Tu Long island (Bai: attend upon, Tu: children, Long: dragon), and the place where the dragon's children wriggled their tails violently was called Bach Long Vy island.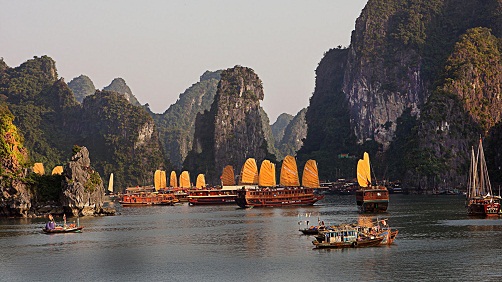 Halong Bay attracts visitors year-round with peak season between late May and early August. Traveling on small sailboats among hundreds of limestone islands, one may visit the Sung Sot Cave, Thien Cung, Dau Go, Titop Isalnd, the floating fishing village, and enjoy many things to do as swim, relax on the beach or enjoy a kayaking program to the nearby Luon Cave.