Fairy stream is flowing next to Cang Vang Hill in Mui Ne and its color is very unique. Besides, fairy stream has beautiful scenery that attracts many tourists.
Fairy Stream, in fact, is not a stream. It is just a long narrow flow of water. Not many people know it beacue Fairy stream is hidden behind the sand dunes.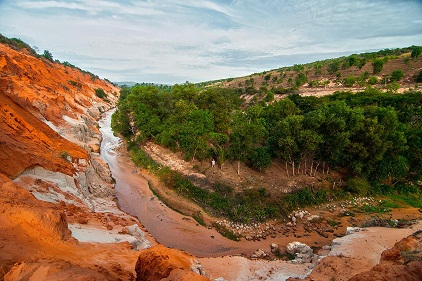 Winding its way through bamboo forests, boulders, and the dunes behind Mui Ne, the whimsically-named Fairy Stream resembles a miniature version of the Grand Canyon in places. For the most part, the stream is about ankle-deep and no more than knee-deep even at its deepest and visitors are encouraged to take off their shoes and follow right along the creek-bed. The soft red dirt is remarkably pleasant to walk through, avoiding the exposed sand and rocks on the shore that can get quite hot.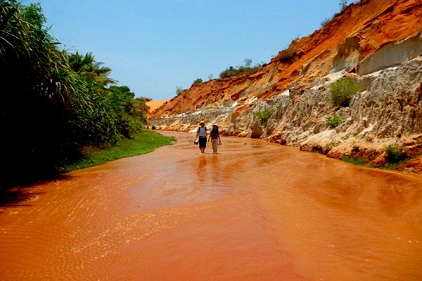 The pitted rock formations off to the sides of the stream also seem like the perfect hiding place for any potential fairies which may be where the stream gets its name. However it could also simply be the image of people strolling through the opaque red waters as though it were a groomed hiking trail, like the hikers themselves were children of nature.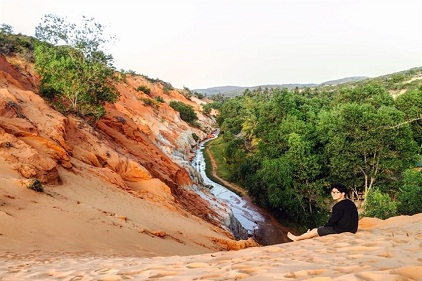 In the summer, when the sunshine is blazing, the rows of green coconuts and the water hyacinth help highlight the stream. As the spring comes, the pomelo and lemon flowers show their beauty and aroma, which makes the visitors cannot help stooping and enjoying them in the blowing wind.