Kite surfing is one of the most famous adventure sports in Phan Thiet. Phan Thiet is an ideal place for kite surfing from November to March with strong winds to enjoy this activity.
The kiteboard capital of Vietnam, if not of Southeast Asia, Mui Ne is a veritable Mecca for those people who are water-sport lovers. Seemingly, there are hundreds of beginners and pros clamor for space offshore, diving and dipping, twisting and turning in the surf.
You could sign up for quick lessons in one of the surf schools scattered along the beach. These Kite Surfing schools offer courses for both beginners and amateurs at competitive prices. Furthermore, there is no shortage of sandy, wide beaches to practice this sport.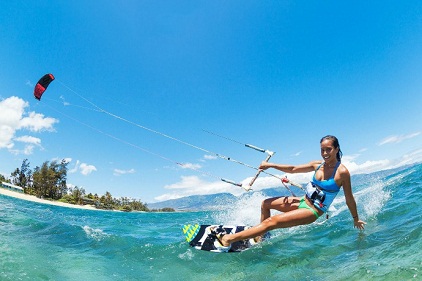 From November till March you generally will have strong winds every day. The Winds in Mui Ne emerge by thermical movements, after the shores got warmed by the sun. You will have perfect wind everyday from 10-11 a.m. on until the late evening.
Gusty winds are seldom. With strong winds, the sometimes choppy waves can be as high as 4 meters and more. The water is free of rocks, which makes it relatively safe to kite. However in the peak season there up to 300 kiters in the water at the same time.
Beginners and Students, who mainly practice close to the beach front makes things a bit more dangerous. So watch out for other kitersufers and swimmers and control the speed, in particularly because swimmers are difficult to see when waves are high. Accidents between kitesurfers or between kitesurfers and swimmers happen from time to time and medical facilities are limited in terms of their equipment and abilities.
There are several kitesurfing schools along the beach, which all employ Beach Boys who will help you to start and launch the kite. It is widely common to tip the Beach Boys with 1 USD/Day. If you bring your own equipment and don´t want to carry it from and to your hotel every day, you can store it at one of the Kitesurfing Schools for $20 USD/week or $60 USD/month, including usage of their compressors and shower facilities.