Vinh Hung tower is an ancient and unique architecture that has been preserved in Mekong Delta. The tower has a value about artistic culture and was discovered in 1911 by French archaeologist.
Vinh Hung tower takes various different names such as Luc Hien Tower, Bhah Dhat Tower, Vinh Hung is considered part of the Oc Eo architecture and culture in the South-Western region. However, some researchers also consider the tower part of the Angkor architecture of the Khmer people in the Mekong River Delta.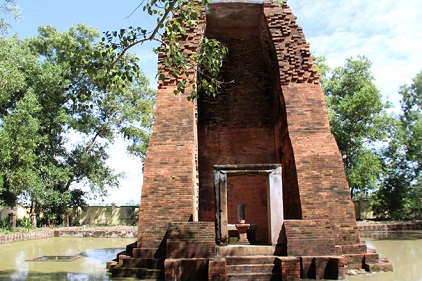 According to the information written in Sanskrit on a stele found at the site, the ancient tower was built around 892 on a strip of land with the width of 5.6m, length of 6.9m and height of 8.9m. The materials used are seamless bricks as no traces of mortar are seen. The tower takes a simple structure with a rectangular space, thick walls, high arching ceiling, and a main entrance. Inside the tower, there are a holy bronze hand, part of a goddess statue, a stone goddess statue, Buddha head and Brahma God heads, and other worshipping objects.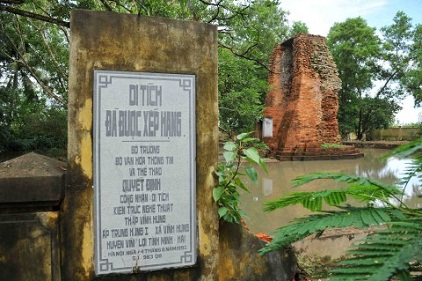 Monks at the towers chant scriptures twice a day at 4am and 4pm. Locals often hold a grand offering festival on the 15th of the first lunar month with the participation of a large number of Buddhism followers.
For its religious, cultural, architectural, artistic and historical values, Vinh Hung Ancient Tower has been recognized as a national artistic and architectural heritage site by the Ministry of Culture, Sports and Tourism and placed under strict preservation.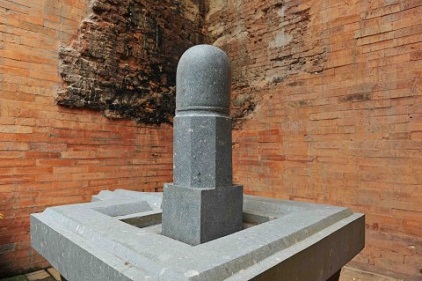 Tourists wishing to learn about the tower may find their way to the site from Bac Lieu City along National Highway No.1A to Sap Bridge and Vinh Hung market, from where Vinh Hung Ancient Tower can be seen.