Con Dao is the best place for diving and snorkeling because there is a diversified marine ecosystem with 1,300 species of marine creatures and the colorful coral.
Other popular dive spots in Vietnam – Hoi An, Nha Trang, Whale Island, Phu Quoc – will claim they're the best, but we spoke to several instructors around Vietnam and they all told us Con Dao really takes the crown.
Along with the usual tropical reef suspects, you can hope to see two-metre cobia, stingrays, barracuda, turtles, moray eels, batfish, clownfish and cuttlefish. An instructor once swam with a whale shark.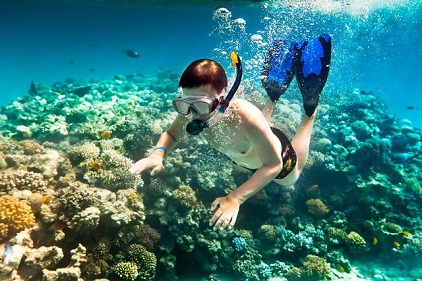 Diving can take place from around March to October. The optimal months are April and May. The winds that can whip up from around November to February put a halt on operations – Rainbow Divers shuts down for the season completely. Winds can arrive early or late and while there's always an off chance for a spell of good weather, if diving/snorkelling is your main reason for heading to the islands, it's best to check ahead with dive shops or plan around these months. You should also book your roundtrip flights as soon as possible. Flights are limited and from one minute to the next travel agents can suddenly take all available seats.
There are three dive shops in town, two offering PADI certification. Given Con Dao's faraway location everything is more expensive, including the dive courses and snorkelling.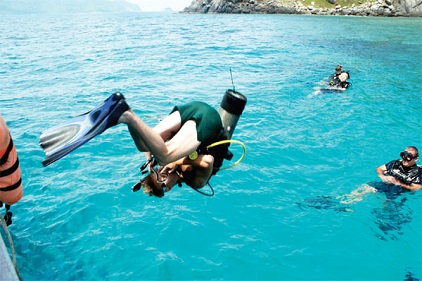 Unseasonal winds dashed all our hopes to test a trip. But we found Con Dao Dive Center (formerly Senses Diving Con Dao) to be very helpful, honest and professional in answering all our questions. It wouldn't be a stretch to think that the service and professionalism would extend to their trips. Their PADI Open Water is 11,550,000 dong (US$555), while a one-day Discover Scuba Diving is 4,200,000 dong (US$200). Snorkellers can join dive trips for US$48, including lunch, equipment and a Divemaster watching your back.
Rainbow Divers, which has centres throughout Vietnam including Whale Island, Nha Trang and Phu Quoc, also offers PADI Open Water for the same price. Their Discover Scuba Diving is cheaper at US$150. They operate seasonally, from March to September.