Binh Chau hot springs is an attractive destination in Vung Tau and famous for not only domestic tourists but also foreign tourist. Traveling to Binh Chau, you have a chance to soak in the hot springs to refresh yourself and enjoy the beautiful landscapes.
There are 70 visible thermal springs in the area forming a huge hot pot with valuable water and sedimentary mud and Binh Chau hot springs have even earned world recognition as one of 65 potential areas for sustainable eco-tourism development among 47 countries worldwide.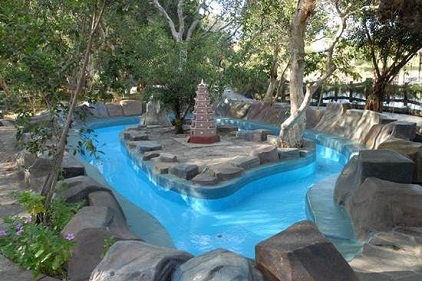 Legend describes the thermal springs as a hot water pot that the Vietnamese "Goddess of Boiling Water" spilled into the place out of anger, a story that stretches past beyond the footsteps created by visitors.
One can enjoy a hot water bath at 37 degrees Celsius in a swimming pool, a hot mud bath, a foot bath at the natural hot spring area, or a swim at a white sand beach.
You can pamper yourself with a heavenly massage after a hot bath and when you get hungry there's that 82 degrees Celsius egg-boiling natural well … within 15 minutes you can have well-done boiled eggs. However if you prefer, there are also restaurants at the resort.