Star beach is one of the most beautiful beaches in Phu Quoc with a wild beauty, white sand with stretches, clear blue sea all year around. It a great place to relax in summer holiday.
Star beach is located on the south eastern side of Phu Quoc Island in An Thoi town with 7km coastline.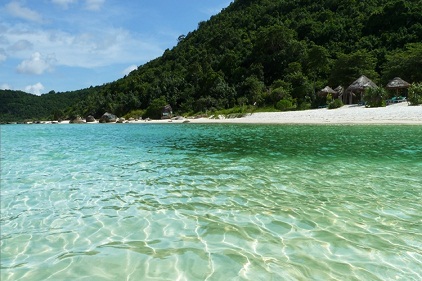 Not having yellow colour like Nha Trang beach, or brown color in Vung Tau beach, the sand in Star beach has white color and smooth like cream. Star beach locates in warm hands of two slopping mountains bringing peaceful atmosphere and fresh weather. Therefore, Star beach is a favorite destination of couple for honeymoon or families who like private and peaceful atmosphere to relax.
In the morning, tourists can walk around on the beach and see the dawn or final sunny of a day which is definitely the most peaceful moment of tourists.
The sand is powdery and light, reminiscent of the sand found in the Caribbean's. The water surrounding the beach is calm, warm, and with a distinctive turquoise blue color.
The further out you go, the darker the ocean becomes. The sand leading into the water contains no rocks and there is no sudden drop, but rather a gentle slope. The ocean here is relatively shallow (for up to 100 meters) which makes it safe for kids and non-swimmers. During low tide you can see sand ripples which resemble a sand bar.