Located in a narrow valley in Duong Xuan Thuong Village, 8km from Hue City, Tu Duc Tomb is considered as one of the most beautiful and picturesque and largest works of architecture of Nguyen Dynasty's royal palaces and tombs. People say that Tu Duc Tomb is a must in every tour to Hue City.
The tomb was constructed between 1864 and 1867. The construction of Tu Duc's tomb requires an incredible amount of money and labour, thus resulted in a rebellion of workers. Therefore, the tomb was renamed as Khiem Lang, in comparison with the former name: Van Nien Co (expresses the wish to be permanent). In addition, all the constructions' names were changed to bear the word Khiem (Modesty) in their names, as the king wanted to express his humility.
It was the place where he could retreat from the Citadel to compose poetry or go hunting because the monument was finished when the king was still in reign. The design of the tomb is said to clearly reflect the profound knowledge and romance of the king's characteristics.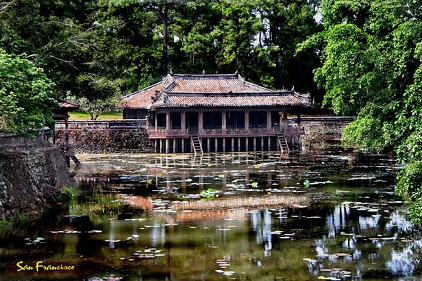 A glance at the tomb can create the illusion of a scenic park, packed with lakes, hills, pavilios amidst the lushness of frangipani trees and grove of pines. It's surrounded by a solid octagonal wall. A few notable sites in the temple area inside the tomb can be listed as Luu Khiem Lake, Tinh Khiem Island, Xung Khiem Pavilion, Hoa Khiem Temple (which commemorated the King and the Queen). Hoa Khiem Temple is a small museum of the King's life: a mirror used by the King's concubines; a lock gifted by the French; the funerary tablets of the emperor and empress. As the tomb also functions as a home away from home, there is even a royal theatre inside the complex, named Minh Khiem Duong. The theatre is a reflection of Tu Duc's poetic soul, with the ceiling carved with stars, clouds, crescent moon and sky. Today, perfomances are not shown in this theatre but in Xung Khiem Ta (near Luu Khiem Lake).
The remaining part is the tomb area, consisting of the Honour Courtyard, the Stele Pavilion and the seplucre. The Stele Pavilion of this tomb is known as the biggest one in Vietnam, in which the king has inscribed about his life by himself.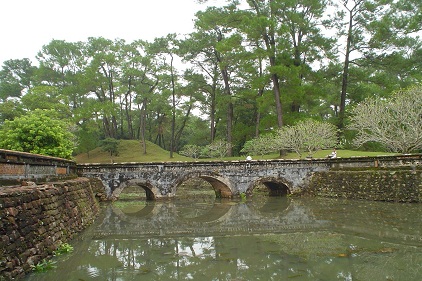 Coming to Tu Duc Tomb, tourists may feel like they're lost in a huge scenery park, where the old monuments of old feudal time are harmoniously in tune with the natural atmosphere.
The suggested means of transport to travel to Tu Duc Tomb is by motorbike, car or even bikes. This site can be included in a tour from Khai Dinh Tomb and Tu Hieu Pagoda. Remember to wear comfortable shoes as visiting this tomb means a lot of walking.