Tay Do night market is an interesting place that you should view when traveling to Can Tho. You have an opportunity to enjoy the atmosphere and shopping experience in Tay Do night market.
It is about 1km far from the centre of Can Tho city to the west of Hau river, situated in Can Tho International Trade Fair Centre, Tay Do market is not only the trading centre of Southern provinces but also attractive entertainment and tourism destination. Tay Do night market is well-known as featured destination for tourism which attracts not only local people but also tourists who live far from here.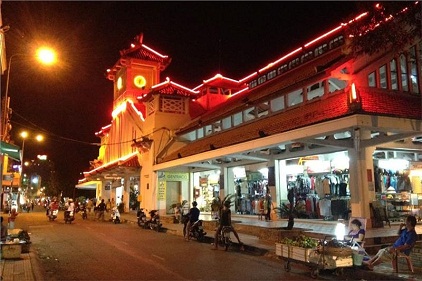 Tay Do night market which is located in campus of Eastern Cultural park of Binh Thuy district becomes bustling since 4 pm while small business people are eager to prepare for a fair in the evening.
Tay Do night market is biggest trade center of Can Tho province. You can find various kinds of goods including fresh vegetables, fruits and flowers, etc.
Visiting Tay Do night market, the tourists will feel the harmony in architecture and sensible in arrangement. All things always bear the southern style significantly.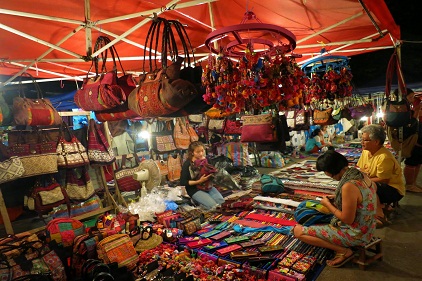 Tay Do night market is divided into many small departments which are clean and nice. The pathways in Tay Do night market is more widen when they are asphalted. All bad things such as garbage and flies seems to be removed because the beauty of country soul presents at each tourist. Tay Do night market is described as small Mekong delta with the simple daily activities of southern people.
Visiting Tay Do market, you not only buy lots of products but also join many types of entertainment such as: Gameboy and music show, etc. All seems to mix together with the cool atmosphere at night here.
Beyond shopping, Tay Do also offers a myriad of entertainment options, from gaming to live music, contributing to the vibrant nightlife atmosphere. Therefore, for a smooth trip, travelers should thoroughly research Vietnam travel costs to prepare and budget carefully for their journey. This is crucial as it not only helps to avoid unexpected expenses but also ensures that you can fully enjoy every moment here, from choosing nighttime entertainment activities to savoring the colorful and flavorful street food.