Datanla waterfall is a well-known for an adventure destination with the largest waterfall in Dalat. Tourists enjoy not only the spectacular landscapes here but also many interesting adventure activities.
Datanla used to be called "Da Tam N'nha" by the native people. The K'Ho who had been living there told that: In the old time, fairies usually came there to take a bath. But people didn't know that there was a stream under the leaves there. So, when native people discovered the water, they named this place "Da Tam N'nha", it meant that "there was water under leaves". Later, the word "Da Tam N'nha" was pronounced to "Datania" and then changed to "Datanla". It has become the official name until now.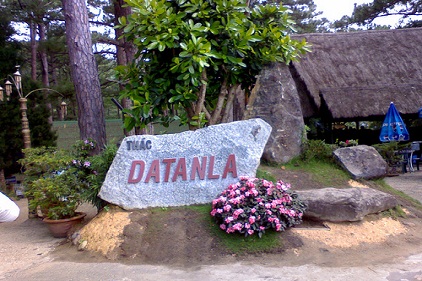 According to a legend of the minorities, Datanla was the place where the brave man K'Lang and the mountainous lady Ho Biang met each other. Here the man had a fight with fierce wild animals including snakes, 7 wolves and 2 foxes. This legend wrote: "trees are blown down, wind roars, the fight is absolutely violent. Lang pulls out his knife and chops down the tow snakes, takes out arrows and shoots at the wolves and the foxes which run away. The trees falling down make deep holes which make a death canyon at the bottom of the waterfall, and then Datanla became the meeting place of two lovers".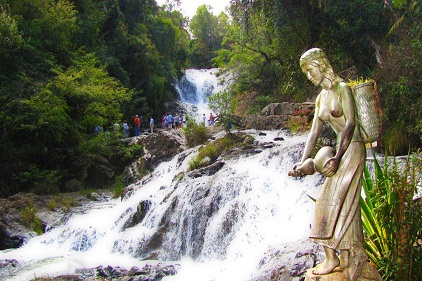 The Dalanta waterfall falls down from 20 meters above, worms through many steps of rock-slits, and then hides itself inside the jungle, flowing alternatively in and out of sight, challenging tourists' curiosity. There are beautiful and glossy rock slabs where fairies from heaven legendarily used to bathe and get amused. Therefore it is also called Fairy Stream.
Going farther down, tourists are soon in front of an immeasurably deep chasm, called 'Death Chasm'. This is a rather dangerous place where accidents easily happen. Unless guided by professionals and equipped with safety devices, tourists should not recklessly explore the mysteries of Death Chasm at Datanla.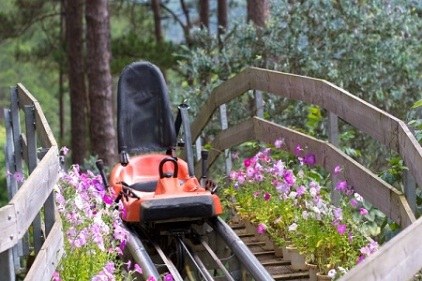 In recent years, Datanla tourist site has exploited some more adventure activities for visitors trying such as climb the cliff, discover the forest and go along the stream to come to Prenn Bridge.