Nhat Le beach has still remains many wild features with white sand, blue sea that create the charming scenery. It is great to enjoy the landscape with clean water, gentle sloping and morning-glory spread on the coast with purple flowers.
Nhat Le Beach is also famous for a great deal of beautiful cultural activities and historical sight-seeings. It has inspired for composers, authors to make many songs, poems, pictures and so forth in a long time. In Vietnames, Nhat Le means beauty and sadness with several explaining ways. Many people think that the main reason related to the death of a Campa Princess (My E) or the sad story about Princess Huyen Tran (Vietnam) married with Champa King Jaya Sinhavaman III. In the folklore, many author said about Nhat Le Beach.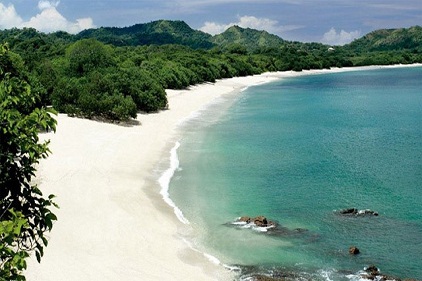 Nhat Le beach is favored wild style white sand and blue water sea. For a long time, Nhat Le beach is known for immense sky and sea, windy sky, blue water.
The early morning is perfect time to enjoy yourself on the long-lasting sand bank, which is compared to "Sahara Desert of Vietnam" to know how hot and sunny it is in Quang Binh, before dipping into the very cool, fresh and blue sea water.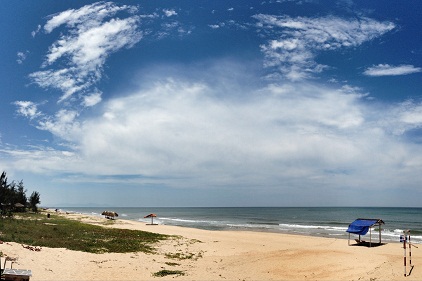 From dawn to dusk, immense sky and sea area is always eventful with laugh sound of tourists and local people in activities as soccer, volleyball, badminton, and so on. However, Nhat Le also has romantic moment when the sun sets. This is the sound of wave in late afternoon, is talks of lovers, and is hearts of husbands, fathers who are catching fishes offshore towards their families.
When the dark comes, they can contemplate sea beauty, sparkling water mixes with silvered moon, remotely, the light of fishing boats become bright as " night city" floating on the water surface. Here, you should make use of time to view wild beauty of Nhat Le beach, steep yourself into rolling waves or take the sun.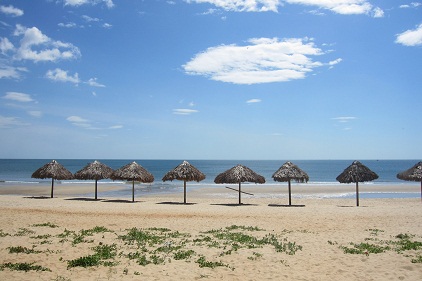 At Nhat Le beach, you also can enjoy lots of fresh seafood such as oysters, clams, scallops, snails, shrimp, crab, fish, squid... right on the beach, from street vendors with a small charcoal stove, but still can provide tasty dishes as grilled or boiled. A special thing here is that you do not have to wait long, because always available local appetizers such as Bot Loc cake, Nam cake with particular taste sauce.