If Phu Quoc seems as a big fish that is waving its tail, Ganh Dau is considered as a fish's mouth. Ganh Dau has a fresh air, smooth sand and peaceful scene and unspoiled nature.
Ganh dau is located in ganh Dau Village up in the northern part of Phu Quoc island and it is widely considered to be one of the best beaches on the island. The beach is surrounded by pristine forest and moutains and it also famous for its revolutionary past.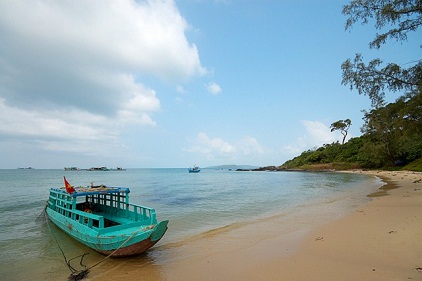 The beach is arch shaped and about 500 meters in length, fringed by palm trees, and is shielded by two mountains. The sand is yellow in color and a bit coarse due to the vast amount of coral found in the water.
Standing on Ganh Dau, you can see Ta Lon mountain of Cambodia. Ganh Dau has a lot of corals, rocks and other kinds of fish, particularly red grouper. Seafood here is cheap that caught by the fishermen and cooked on the spot to be ready for you to enjoy.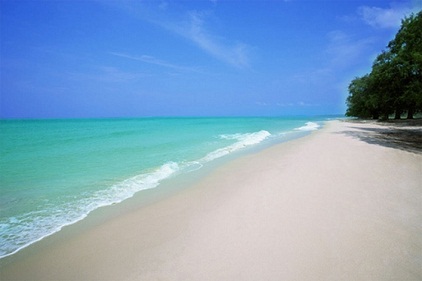 On the way to Ganh Dau is interesting, out of Duong Dong busy town you will be on the path of red soil along the peaceful villages. Along both sides of the road is the vast pepper garden stretching along the slopes of Statue Park belonging to Cua Duong, Cua Can commune.
Beyond about 20 kilometeres long road, you will come to primeval forest in the territory of the Phu Quoc national park. It is considered as the precious forest of the southern with an extremely rich flora and fauna. With an area of more than 8700 hectares, here you'll feel the majestic mountains, immense trees.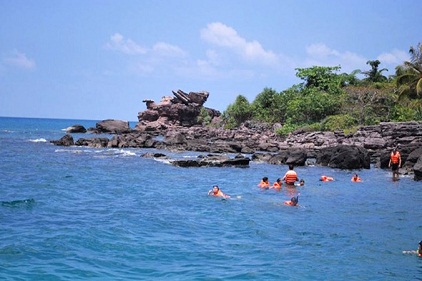 The most interesting thing when you visit Ganh Dau is that you can be just swimming and watching the borderland between Vietnam and Cambodia. If you like exploring you can rent boats to come two islands offshore: Hon Ban and Hon Thay Boi.