Located in the southeast of Ha Long Bay, Dau Be Island is 500 m to the east of Hang Trai Island, 28km from Bai Chay Cruise Port, in an archipelago located in the bay outside Ha Long Bay. Island has an area of 22 863 m2 with 139 meters at the highest peak. The steep island cliffs stand like walls to shield the island from the waves rushing from the east into the Gulf.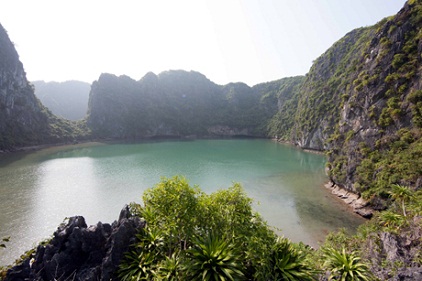 Dau Be Island is famous for Ba Ham Lake because it is a well-known tourist attractions have been known for a long time. Ba Ham Lake is a system consisting of three major ocean basins connected through a meandering narrow cave. Inside the cave, stalactites hang down from the ceiling cave creates strange shapes and sizes. On island there are species of orchids, banyans, and palm trees. The island which is also home to the golden monkeys, birds, flying squirrels, bats, has blooming flowers all year round. Under the blue water, there are many marine species thriving. In "Merveille de Monde" published in 1938 specializing in the introduction of scenic Ho Ba Ham described as follows: "Upon arrival Ho Ba Ham, you have the same impression as to Luon cave, Sung Sot but landscape here is much nicer. Though the entrance is less easy than in Luon Cave, tourists take joy in exploring this strange landscape."
If you take a trip with Indochina Sails cruise, you will be able to visit this Island.