Han River Bridge is a symbol for new vitality and the developing desire of Danang and crossing the romantic Han River in Da Nang. Each year, Han River Bridge attracts ,many tourists come here to see the unique swing bridge to be built in Vietnam.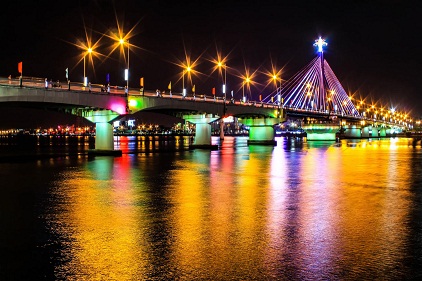 Han River Bridge was commenced on September 2nd, 1998 and inaugurated on March 29th, 2000. This is the first swing bridge designed and constructed by Vietnamese engineers and workers and is the only swing bridge in Vietnam up till now. It connects the two sides of the East and the West, Son Tra peninsula and city center.
The Han River Swing Bridge is 487.7 meters long, 12.9 meters wide, consists of 11 spans. Each span is 33 meters long with reinforced concrete structures and two cable-stayed spans which are 122.7 meters in length, steely structural beams and main bridge tower, concrete reinforcement slab. Han River Bridge was recognized as "the works with typical quality for 5 years 2001 - 2005". It contributes to affirm the brand of young city; simultaneously, creates an important premise for the economic development of the city, especially Da Nang tourism.
When the city lights up, Han River Bridge is very beautiful and romatic because of the system of decoratice lighting along the bridge. Han River Bridge becomes a splendid lightning architecctural highlight among dreaming Han river.
The unique thing about Han River Bridge is the middle part of the bridge will turn 90 degree axis and along the river, this is done so that large ships can pass through. However, according to the latest information, at present, the Department of Culture, Sports and Tourism Da Nang is proposed to Han River Bridge will swing from 11p.m to 12p.m at the mid night on the weekends to serve the tourists.
Some travelers say that traveling to the Danang city without watching swinging bridge and taking some photos for this moment means that you have not visited Danang city yet. Therefore, you should record the exciting moments of this bridge when visiting.