Nam Nha pagoda is famous not only by the beauty of elegant architect, peaceful and quiet palace but also by the historical – cultural relic. So it becomes a popular place for tourists visiting in Can Tho.
Nam Nha Pagoda is located in the northern residential area about 200 meters from the Hau River, in front of the family Binh Thuy, the south is the street of Le Hong Phong. The pagoda was recognized as historic national culture in 1991.
Nam Nha Pagoda was created by Nguyen Giac Nguyen in 1890. By 1895, humanitarian Master introduced to, he gave up the pharmacy North and build a temple named Nam Nha Tang. Thus the temple also known as Master. At this point of time only 3 temples, wooden pillars, gates and very simple tiled roof is composed of the main power between the two sides are East and West Lan Lan way street.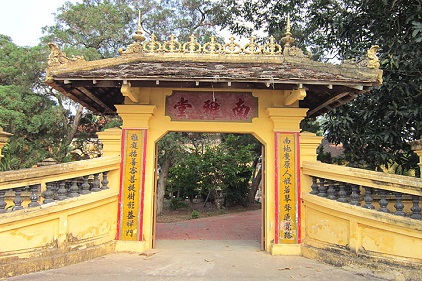 In 1905 the temple was expanded with 5 apartments and two bottles. In the late nineteenth century and early twentieth century, is based Nam Nha Pagoda revolutionary activities of the patriotic scholars such as Nguyen Than Hien Cuong, Nguyen Giac Nguyen....In 1917, Nguyen Giac Duyen Nguyen Giac Cung and children, and all the temple committee composed Duong Van Dat (teacher she died), Mai Thi Furniture, Bui Huu Sanh (son valedictorian Bui Huu Nghia) jointly build a three security concerns. By the year 1923, the temple was restored, finishing one more time and huge scale as today.
Yard, surrounded by a large garden stretching out to take waterfront Binh Thuy; Between bonsai garden is above 2 m is placed in a tub of blue water ships dark red brick, pine trees planted in the garden, plant monitoring and other trees. Interwoven under this tree are valuable ornamental plants, nearly 100 years old are cut meticulously bending.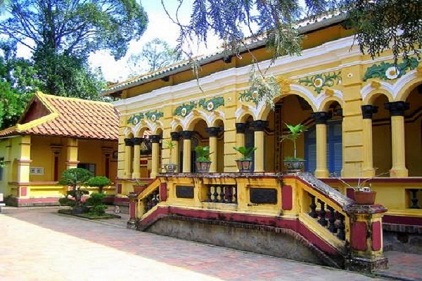 In the middle is a large house 5 times, tiled roofing, painting on shaped European dragons. Ministry for roof truss pattern set on seven pillars round, square. Under each column has a stone base. The central area of the main hall is decorated very solemnly where the altar used as a tool Professor Nguyen Giac Nguyen, Quan Quan Noble and Calendar Great Patriarch. Facing the altar three religions is a shrine town guardian herd poet Bui Huu Sanh and Bui Huu Nghia.
Both sides have 2 electric bills put all your altar table of the abbot. After the house was a long corridor with two rooms seating quarter. To the right and left temple tile is 2 blocks east called Lan Road (also known as Need dojo) for men and Zealand Road (also known as Kun dojo) for women eating communion with kitchen . After the temple is an orchard, evergreen, season actualised, typical for the Mekong Delta.