Xuan Huong Lake is a beautiful lake that located in the center of Dalat. Around the lake, there is a pine forest, lawn and flower garden. So, Xuan Huong lake is a favorite place with tourists when visiting Dalat.
Long time ago, when Lach people (an ethnic community in Central Highlands) were the first residents in this area, Xuan Huong Lake was the main source supplying fresh water for the whole community in both manufacture and daily activities.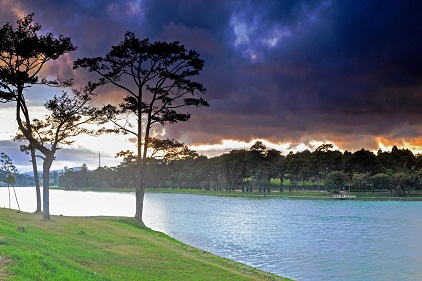 Water of the lake chiefly came from Cam Ly Waterfall. In 1919, the local government confined a part of the stream to form the lake and built an additional dam below in 1923. But then in 1932, the dam was destroyed in a huge storm. To save the lake, engineer Tran Dang Khoa designed an alternative stone dam which is presently called Dao Bridge.
The crescent lake of Xuan Huong has a total area of about 25 hectares and a perimeter of 5 kilometers. The lake is surrounded with ranges of pine trees which effectively embellish its poetic beauty. Every tourist travelling to Dalat wants to saunter along the lake, enjoying the unique cool weather in the middle of a tropical country.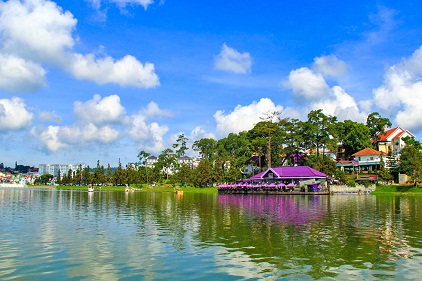 Moreover, around the lake there are green lawns. Besides, there are alternate between yellow and white flower that is dandelion. Its meaning is prophecy for love. Flowers are beautiful, simple but very seductive, charming, gentle and very graceful. In balmy summer days, sunshine blending with gently breeze will create a wonderful painting with cloudy smoke that is dandelion which is flying around Xuan Huong Lake.
No matter in the early morning or in late evening, the lake surface is covered with a thin layer of fog. When the night falls, the lake looks even more charming with the reflections of fade yellow lights of the coffee shops which are located along the two sides.