In Bac Kan, there are some famous fruits and vegetables that tourists also know and want to buy as a gift for their family and friends.
Bac Kan tangerine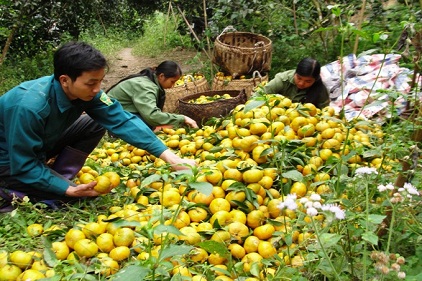 Bac Kan tangerine is big with thin skin, very juicy, slightly sour and sweet with attractive aroma. The harvest starts from lunar September until the end of lunar December.
Bac Kan tangerine is granted Certificate of geographical indication by Department Of Intellectual Property.
Seedless Persimmon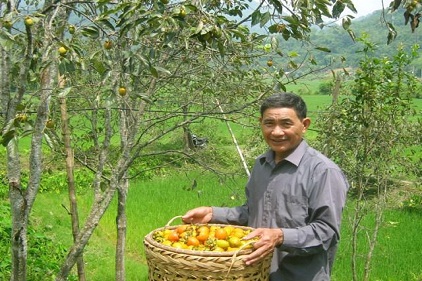 Due to be cloned through generations, Bac Kan has a famous seedless persimmon that is crispy, sweet and has a very special flavour.
Seedless persimmon is grown around Bac Kan province. It is harvested in annual lunar August and September.
Along with Bac Kan tangerine, Bac Kan seedless persimmon was granted certificate of geographical indication by Department of Intellectual Property.
Da Yen vegetable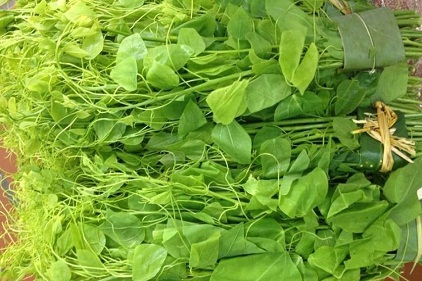 Da yen vegetable (bo khai), dialect as phjac hien, is a liana that grows in the Rocky Mountains of Ba Be National Park. In the spring, da yen grows fast because of the warm weather.
Da yen vegetable fried with beef, egg, "ngot" noodle, etc is not only a delicious food but also a valuable medicine. Coming to Bac Kan, visitors want to taste da yen vegetable and often buy it as a gift.
Bang Phuc Shan Tuyet tea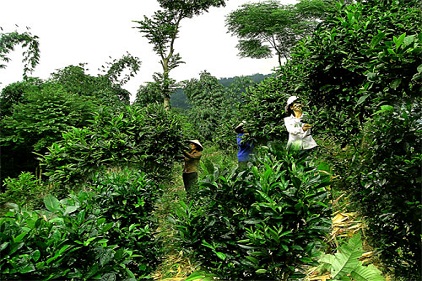 Located at an altitude of 1,200 m above sea level, Bang Phuc commune, Cho Don suburban district with cool climate all year is a favourable condition for growing Shan Tuyet tea. There are over 1,000 century-old teas that are harvested now in Bang Phuc, including 300-year trees with tens of meters high and their canopy covers tens of square meters wide. Unlike other kinds of tea, Shan Tuyet tender tea leaves are large and covered with a layer of white fuzz that look like snowflakes. When being dried, the tender tea leaves are silver white and when making tea, its
Bang Phuc Shan Tuyet tea, a specialty of Cho Don suburban district revolutionary homeland, is famous with strong flavour
Jiaogulan Herbal tea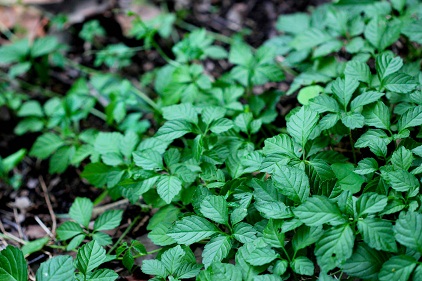 Jiaogulan is a liana that grows wild and scattered on the mountain slopes of Bac Kan. In the composition of jiaogulan, there are over 100 saponins that have a structure like saponin in ginseng and false ginseng. Jiaogulan contains flavonoids with a powerful anti-aging effect, in addition it also has amino acids, vitamins, microelements Zn, Fe, Se used to reduce cholesterol, stabilise blood pressure, prevent and control some complications of cardiovascular disease and diabetes, etc.
In addition to use as herbal tea, the people here also use young and tender leaves and top of jiaogulan as vegetables ' When coming to Bac Kan, , tourists will enjoy special flavour from slightly bitter to sweetish of jiaogulan or jiaogulan fried with egg.