Ha Noi city is a perfect choice for those who want to spend days and nights on shopping. This city is a friendly tourist destination with a plenty of shopping items you can think of. The following list is recommendation for 5 places to shop around Hanoi Old Quarter.
1. Night market at old quarter
There are several night markets in Hanoi and the one located at the old quarter is an enjoyable shopping spot for both locals and foreigners. This market has a large precinct that begins from Hang Dao street to Dong Xuan market. There are nearly 4000 stalls and kiosks selling thousands of goods as clothing,shoes, lacquer, souvenirs, jewelry, handicraft, accessories…etc at affordable prices. The best thing about this market is that you can experience some of popular streets foods like sweet soup, noodles, soaked fruits and Vietnamese traditional cakes.
2. Hang Ma Street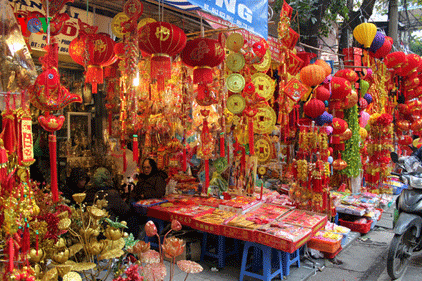 Hang Ma Street is on the way from Hoan Kiem Lake to Dong Xuan market. It is one of the bustling street in the old quarter that offers many kinds of colorful stuff especially the beautifully decorated ones. These items are used to decorate houses. On special occasions like Christmas, New Year, lunar New Year or mid-autumn festival, Hang Ma street is always packed with people, both locals and tourists. Vietnamese people want to take a stroll around Hang Ma street to buy red parallel sentences, strings of flash-bulb or paper unicornhead, small drums and lanterns for kids. The street is also an option for those want to take pictures.
3. Hang Duong street
Hang Duong street offers a great selection of snacks and sweets for people of all kinds. O Mai - the most famous specialty snack in Hanoi is widely purchased in Hang Duong. O Mai is a salted and sugared dried apricot or other fruits. It's a little bit sour at the first bite but the more you eat, the richer it is in flavor. These special snacks have a great fragnance that you can smell when entering a store.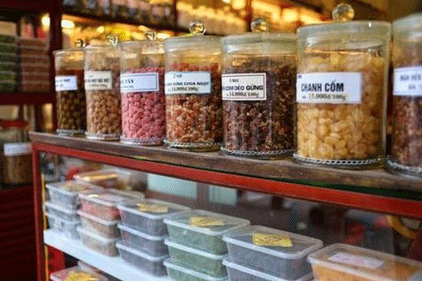 Most of the O Mai selling on Hang Duong street are handmade with the unique recipes that are handed down from this generation to another in a family. This is why O Mai is an amazing treat in Ha Noi that you can find nowhere in Viet Nam.
If you are wandering what to give to your loved ones when back home, O Mai is an ideal suggestion. You will watch their eyes light up with unconllable joy as they slowly savored each morsel of O Mai.
4. Hang Be market
Hang Be market which is near Hoan Kiem Lake is one of the most popular shopping stops of the local. Everyday, a large number of people flee to Hang Be market to look for their needed items. Besides selling unbelievably great food, fashionable clothing and local souvenir, Hang Be is also a cultural exchange spot where you can see groups of foreigners walking around the market. These tourists and expats assume Hang Be market as a real star to explore the Vietnamese lifestyle.
5. Hang Da market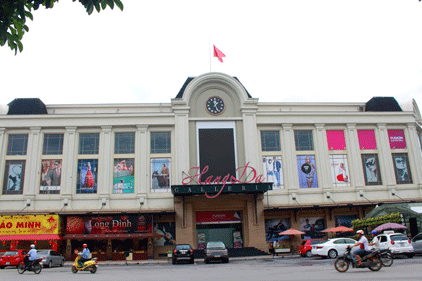 Nesteled at the centre of Hoan Kiem district, Hang Da market boats some of the best foods and specialties in Ha Noi. The place is packed with locals and the food offers some pretty unique flavor combinations. There are 3 floors with different function in this market. Apart from the mind-blowing food, clothing and jelwery are some other products that you can find in Hang Da Market.