We recommend the 10 things you should do before leaving Hanoi.
1. Wander Around the Old Quarter
If you're not staying in the Old Quarter, you must wander around this ultimate maze of shops, restaurants, cafes, bars, temples, and people watch. You'll get lost in the Old Quarter but that is the best way to explore it.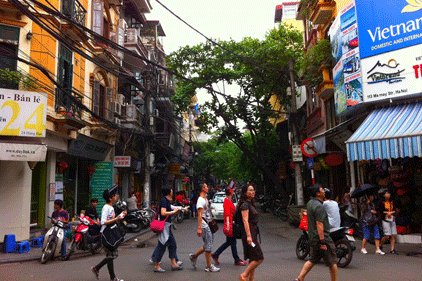 The Old Quarter has been kicking around since the 13th century and since then, a guild was responsible for each street and they've somewhat kept that going. When you wander around you'll notice that each street still specializes in a certain business like fashion trimmings, bamboo poles, or metal cages. If you get lost just make it back to Hoan Kiem Lake and use that as your compass.
2. Eat Street Food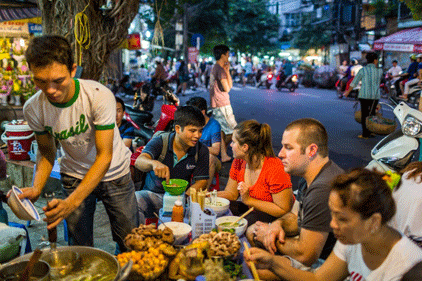 Eat all of it!!! If you love Vietnamese food you'll be in heaven here. At first I have to admit to sticking with banh mi (Vietnamese sandwiches) and pho (noodle soup) but luckily my friend opened up my palate to new things like savory porridge with shredded pork and fish soups. If you don't like it, remember it's so cheap so you can always order something else. Food in Hanoi was amazing!
3. Explore Hanoi night market
This market spreading from Hang Dao Street to Dong Xuan Market creates a busy and crowded walking street. on weekend evenings, a lot of people come here to stroll or go shopping, which becomes a habit.
People come here for shopping or just strolling in the crowd to feel the atmosphere of the night market and the habit of Hanoians. Children are excited about going shopping with their family, sitting o­n their father's shoulders, holding their mother's hand, walking in a stream of people, playing with sand pictures and painting statues. It is so romantic to see lovers hand in hand walking o­n the street, smiling, taking pictures, buying some pieces of clothes at weekends. There are lots of foreign tourists who go sight-seeing or shopping.
4. Take a cooking class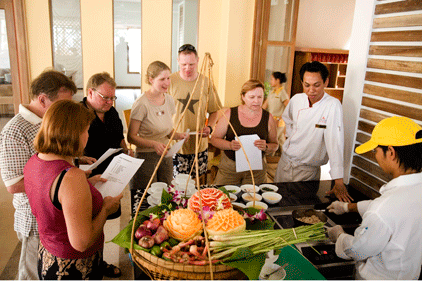 Just as you will find them a lot in Hoi An, Hanoi offers a lot of cooking classes so you can learn how to make the most delicious Vietnamese recipes. A lot of fun and rewarding as you can go home with a little bit of Asia for your kitchen! Again: as there are so many cooking classes you can follow.
5. Walk around Hoan Kiem Lake
Hoan Kiem Lake is a must-see on your list of tourist attractions in Hanoi and is situated in the heart of Hanoi Old Quarter. It is a relaxing place to walk around and take pictures of the scenic trees and flowers or stop for a coffee and enjoy the views. Take pictures of the Turtle Tower, which is situated on an island in the middle of the lake.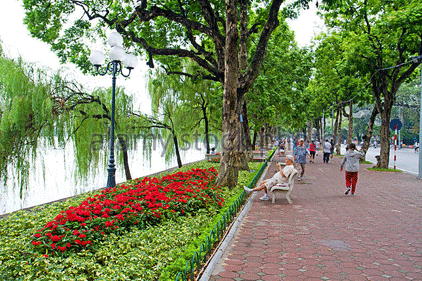 On the North Eastern part of the lake you will find Jade Island, which can be accessed via the spectacular wooden Huc Bridge. This bridge leads to the Ngoc Son Temple, which was built in the 18th century. It is spectacular!
6. Cross the Street
The Old Quarter in Hanoi is completely buzzing with traffic, where motorbikes and cars drive around all over the place. If you think you have done it all before try crossing the street in Hanoi. In order to do so will involve temporarily putting your common sense and sanity to one side. Pedestrian crossings are simply something to speed over, traffic lights are ignored and one-way streets are treated like your own back yard.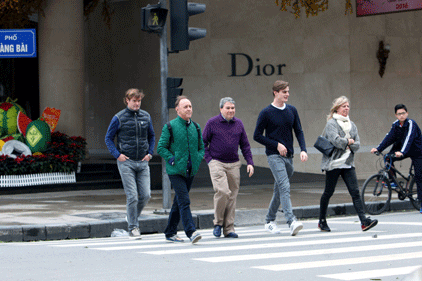 One of the simplest ways to cross the street is to follow or walk beside a local who knows what they are doing. Otherwise just walk straight into the fire of oncoming cars and motorbikes. The first two or three attempts may seem daunting but eventually you will get the hang of it. The whole point is not to hesitate while crossing; the motorists know that you will be walking out, and will bizarrely calculate their path and speed based on you maintaining your walking pace.
7. Take a relaxing ride on a cyclo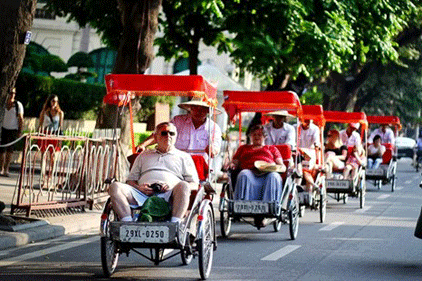 Walking around in the Old Quarter can be tough on the feet so if you fancy a rest why not take a relaxing tour while sitting comfortably on a cyclo? It is well worth it and the riders are very friendly and will indicate points of interest as you ride along.
8. Sip on some egg coffee
Egg coffee consists of a very small glass of strong, aromatic sweet coffee, whipped with egg, and sweetened with condensed milk. It is definitely a must-try when you visit Hanoi. By the way, we know the egg bit may sound strange but the Vietnamese have somehow put eggs in coffee and made it rather delicious.
9. Take a motorbike taxi
"Hello… hello… motor… motorbike…" This is how Vietnamese motorbike taxis approach tourists in Hanoi in an attempt to convince them to get on their bike for a ride. Taxis are great but hopping on the back of a motorbike taxi is definitely exhilarating and one of the fun things to do in Hanoi. You will find them on every street corner day and night. The Vietnamese call these motorbike taxis 'xe om'. Ensure that you negotiate a fare in advance, with some haggling of course.
10. Enjoy one of the Water puppet theater
A show where you'll see puppets in the water perform Vietnamese traditions complete with Vietnamese talks and music. This ancient old art and form of entertainment is a 'only in Vietnam' thing and therefor something you don't want to miss. It isn't that expensive and time consuming so easy to fit into your busy schedule as well!