Getting to know more about the culture, custom and tradition of Hanoi absolutely will impress you so much while visiting Hanoi. One of the hottest spots in Hanoi that can give you a chance to satisfy your wish is Hanoi Old Quarter. Let's come and see how special and unique it is.
Hanoi Old Quarter is well known for its ancient beauty as well as bustling but gentle atmosphere. Coming here, you may get lost as there are so many small, meandering streets and different names of street here. Each street in Hanoi Old Quarter bears the name of goods that was specifically traded there, some of names such as: Hang Bac Street, Hang Ma Street, Hang Go Street, Luoc Street, Gia Street, Trong Street, Hang Be Street, Hang Dao Street. These streets with old – style centralizing the feature as well as the original goods sold here.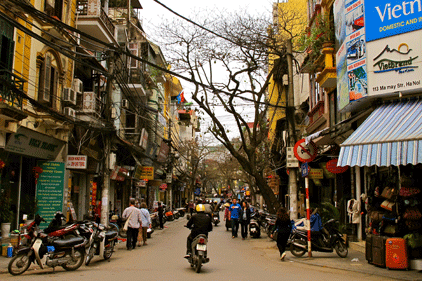 Hanoi with 36 streets is what you should not miss out during your visit to Hanoi. When visiting thee Old Quarter, do not miss the chance to go to visit a lot of pagodas and temples in this ancient place. Some of the temples and pagodas you can take a visit to such as: Bach Ma Temple, Dinh Huong Temple, Nam Huong Temple, Cau Dong Temple, Phu Ung Pagoda, Ngoc Son Temple, Hoe Nhai Pagoda. In addition, there are some interesting and must – do activities in the Old Quarter that you should not miss to enjoy such as: watch water puppet show, walk through Dong Xuan market, Dink Bia Hoi at Ta Hien.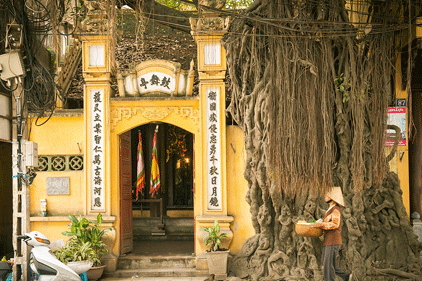 Especially, when you visit the Old Quarter at night, you will really feel the bustle and hustle with a lot of people walking around here. All of Coffee Shops and Bia Hoi Corners are full of people who are sitting in the plastic stools and chatting with each other about many things in their lives.
Tasting traditional foods is another thing you should not miss to enjoy in Hanoi. Some of traditional dishes in the Old Quarter such as: Pho, banh cuon, bun cha, xoi, banh cuon. These are the most famous and special dishes in Hanoi that enjoyed by all of the tourists coming here. Last but not least, do not forget to buy some souvenirs for gifts in the Old Quarter as there are traditional things sold here.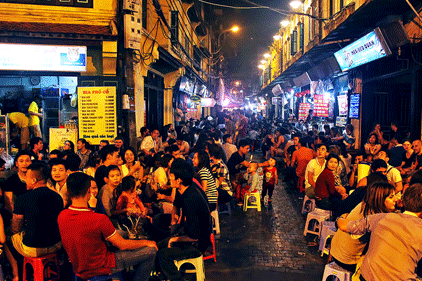 Have you ever visited Hanoi? If not, let's take a visit to this special and wonderful city to immerse yourself in the ancient city known as Hanoi Old Quarter.