Ho Chi Minh Mausoleum is one of the most historical attractions in Hanoi, knowing for the final resting place and holding the embalmed remains of President Ho Chi Minh, the most iconic and national hero of Vietnam.
Ho Chi Minh Mausoleum is located in Ba Dinh district, nearby Temple of Literature, West Lake, Hanoi Flag Tower, Imperial Citadel of Thang Long.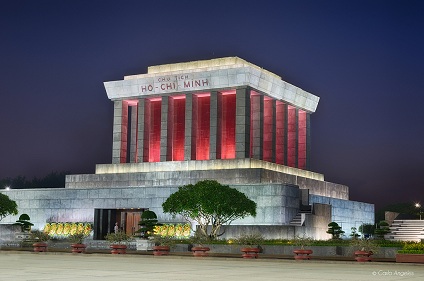 Ho Chi Minh Mausoleum was built in two years from 1973 to 1975. Ho Chi Minh Mausoleum takes some inspiration from Lenin's in Moscow. The Mausoleum, which was made of marble and granite, features a three-stored structure. In the second store places the famous President's body, lying as if he were sleeping in the simple clothes worn when he was alive. Above the portico of the mausoleum, the words "Chu tich Ho Chi Minh" (President Ho Chi Minh) can be clearly seen chiseled into the pediment, which is supported by twenty stout granite-covered pillars. The materials that constitute the building, from exterior granite to interior wood, were contributed by people from all over the country. Even the garden that surrounded the Mausoleum has a collection of plants and bonsais donated from all regions in Vietnam. In front of the mausoleum is the 79 cycad trees, symbolizing Uncle Ho's 79 springs of life.
Besides, Ba Dinh Quare in front of the Mausoleum is a place where President Ho declared the independence of Vietnam on September 2, 1945. The square has 240 patches of grass divided by intersecting concrete pathways; visitors are heavily discouraged from walking on the grass.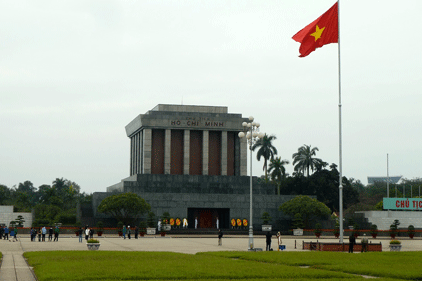 Moreover, you can continue to discovery Ho Chi Minh Complex by visiting the nearby Ho Chi Minh Museum, which contains an account of the man's life as told in allegory and his personal effects, and the Presidential Palace, on which grounds Ho Chi Minh lived after taking power (he never really moved in, contenting himself with living in the former electrician's quarters, then in a custom-built stilt house from the 1950s till his death).