The Imperial Citadel of Thang Long is an outstanding place of interest not only for the Hanoi but also for the country as a whole and was inscribed on the World Heritage List by UNESCO's World Heritage Committee in 2010.
The Impretical Citadel of Thang Long was built in the 11th century by the Ly Viet Dynasty, when the capital of Vietnam was relocated from Hoa Lu to Hanoi. The Imperial Citadel of Thang Long is the cultural complex comprising the royal enclose area built in the Ly Dynasty and expanded in Tran, Le and finally Nguyen Dynasty.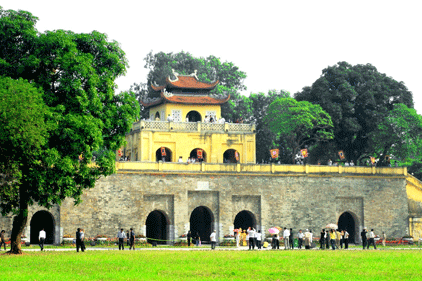 Now, it is located next to Ba Dinh Square, opposite the Ho Chi Minh mausoleum also near many important political buildings including the Vietnamese Presidential Palace.
There are three parts in the Imperial Citadel of Thang Long including:
- Flag Tower of Hanoi on Dien Bien Phu Street within Army Museum area, opposite Lenin Statue & Park, adjacent to the base of the tower is Higland Cafe
- Citadel and Palaces on Hoang Dieu Street including some relics as: Kinh Thien Palace from the Le So Dynasty, with stone steps and balconies carved with dragons made in 1467; Doan Mon Gate, the southern gate of the forbidden city of Thang Long; and relics of Hanoi Citadel from the Nguyen Dynasty with Cua Bac (Northern Gate), Hau Lau (Back Tower).
- 18 Hoang Dieu Archaeological Site on Hoang dieu Street, opposite the Citadel and Palaces was exposed in late 2003 including three layer. The deepest layer contained evidence of building from pre Thang Long period ( 7th – 9th centuries AD) or the Dai La Citadel. The next layer contained architectural traces from the Ly – Tran dynastles ( 11th – 14th centuries AD). The top layer revealed remnanats from the Le dynasty 9 15th – 18th centuries AD).
Unlike other museums in Hanoi, you have a chance to take some photos here but all activities should be quite, not affect to other people and relics.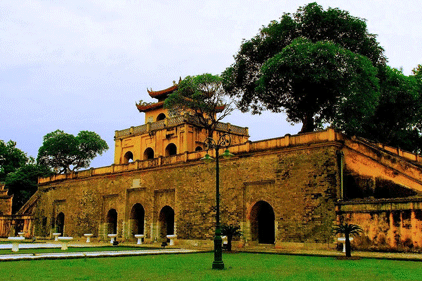 You can visit all days in the week except Mondays. And you should spend a half day to visit all palaces in the The Imperial Citadel of Thang Long to know more about the history of Vietnam through the Dynasties.