Marble Mountains, located a short distance from the City centre, are familiar to everyone who has been to Danang City and are a symbol of the area. The ambience of pagodas, and grottoes, in a natural mountain setting together with the background murmur of waves from the nearby coast make the mountains a favourite tourist destination.
The Marble Mountain, located at Hoa Hai Ward, Ngu Hanh Son District, are a major tourist attraction in Danang and are alongside the Danang-Hoi An roads, 8 km to the southeast of the central area of Danang and 20 km north of Hoi An. They consist of 5 moutains with many mysterious caves, Buddha statues and beautiful pagodas. Each mountain is named after the natural element it is said to represent: Thuy Son (Water), Moc Son (Wood), Hoa Son (Fire), Kim Son (Gold) and Tho Son (Earth).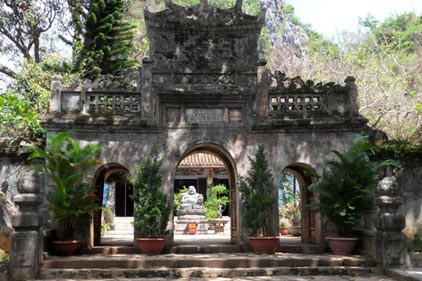 Like other landscapes, these mountains have many different mysterious legends. The echoes of many mysterious legends give the mountains their own character. In ancient oriental philosophy; metal, wood, water, fire, earth were five elements that created the universe. Five was the paramount number in thoughts and daily lives. The coincidence of the five peaks: metal, wood, water, fire, and earth still provide a mysterious link with the past.
The main attraction most visitors see is Thuy Son Mountain. It is the largest in the group and has the most caves. You can climb the staircases to various viewing platforms around the outside and be rewarded with terrific views of the countryside, even down to China Beach a few miles away.
Many of the caves are filled with various Buddhist statues, some freestanding and others carved beautifully out of the living rock. The outer slopes are dotted with pagodas and temples and some of the caves even have ancient buildings inside them – make sure you see the spectacular Huyen Khong Cave.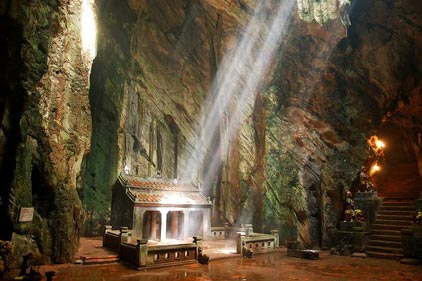 Look to the base of the mountain and you will see another cave. This is Dong Am Phu Cave or "Hell Cave". Used as a field hospital during the American Vietnam War it has undergone a modern day transformation of coloured lights and artistic sculptures depicting the afterlife fates that await people who have been either naughty or nice during their life. A real underworld – well is worth the visit.
Most of the other nearby mountains has a small number of caves and pagodas each that are also worth spending a little time to view.
Visiting to the Marble Mountains, you can climb the 108 steps to Ling Ung pagoda, sit at Vong Giang tower to look to green Truong Giang in the sunset or stand on Vong Hai tower to view sandy beaches with sea waves breaking in the shallow waters.