The weather is an important factor in your trip beacause it can effect to your outdoor activities and go around to explore the beautiful landscapes in Phan Thiet. So you should the best time to visit Phan Thiet and enjoy your trip.
Phan Thiet weather by month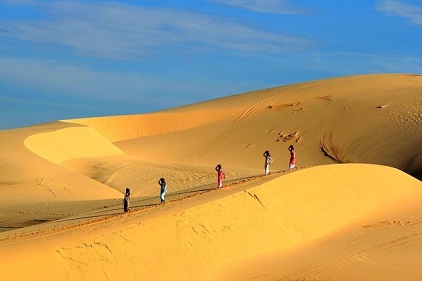 Weather in Phan Thiet is always windy, sunny, less stormy, and no frosty. The average annual temperature is from 26 °C to 27 °C. In December, January, and February, the average temperature is about 25 °C, cooler than other months of a year. April and May are the hottest months in Phan Thiet. The average temperature can reach 29 °C. Average relative humidity is 80.7% annually. Climate in Phan Thiet during dry season is portrayed by high temperature and low precipitation. The gap between the average temperature and the average low temperature is about 8°C. The difference between average monthly temperatures is not significant (about 1°C).
In November, weather in Phan Thiet City is described by low rainfall and cloudy. The temperature ranges from 22 °C to 30 °C. The average humidity and precipitation is low. The daily hours of sunshine are 4 hours. In December, the temperature varies from 21-30 °C with the total hours of sunshine of 5 hours. Rainfall level is still low.
From January to March, temperature and precipitation seldom change. The temperature ranges from 20 °C to 30 °C, and the precipitation is no higher than 50mm per month. In rainy season, Phan Thiet climate is typified by high temperature and precipitation. The highest temperature is seen in June, July and August (about 32 °C). The gap between average high temperature and average low temperature is as same as that in dry season, about 8°C. The total rainfall in this season is extremely high. From August to October, it is very cloudy and sunny, which is an ideal weather for games and activities on the beach.
Best time to travel Phan Thiet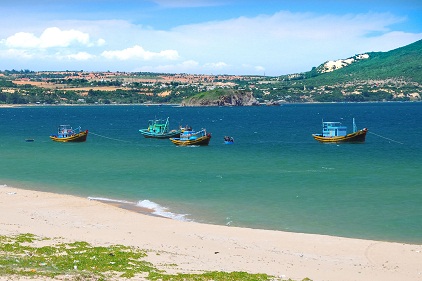 Phan Thiet is one of the most-visited destinations in Vietnam. Climate here is so ideal to travel at any time of a year. Weather in Phan Thiet is naturally dry all year round. The average temperature is about 29 °C.
However, the best time to visit Phan Thiet is considered from November to April. During this time, you will have a chance to enjoy the most beautiful scenery in Phan Thiet with wonderful seascapes and landscapes. If you adore exploring and experiencing adventurous tours, months from November to April are suitable to you.
The early months of a year (from January to March) are also the festive time in Phan Thiet. Coming here, you will be lured into colorful and exciting atmosphere in traditional festivals. For those who are fans of dynamic sea sports and games on the beach, months from May to October are the best time to travel Phan Thiet. During this time, wind and wave speeds are ideal for several types of sports like wind-surfing and sailing. Overall, Phan Thiet is suitable to travel at any time of a year.