Nowadays, the transportation in Vung Tau is very developing so you can go around the city by many kinds of transportation as taxi, motorbike, bike or walking.
By taxi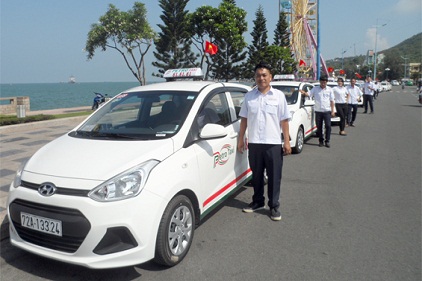 Taxis are rather expensive in Vung Tau. Prices are 30% higher than Saigon companies, especially along the beaches. Major companies are Vietnam Airport Transfer Gili Taxi, Petro Taxi, Vinasun, and Mai Linh. Petro Taxi by the hydrofoil port will charge five times more than a VinaSun taxi. Be careful of taxi scams where taxis will drive in circles to increase the fare. Also, the meter on Vina Sun and Mai Linh taxis starts automatically. If the driver tries to press any buttons when you get in the car, this will speed up the meter. Ask for the driver to pull over and get out of the car right away.
By motorbike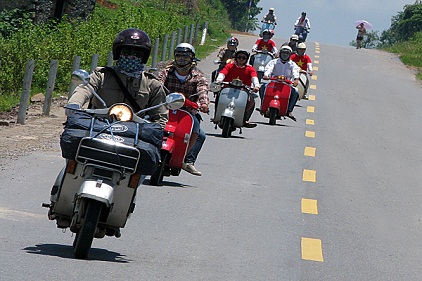 As an ordinary Vietnam urban area, Vung Tau has plenty of xe om (motorbike) drivers who are professional (and unfortunately seek out foreigners). Tourists coming to Vung Tau may find out that traffic is slower here, especially during the week. As of December 15th, 2007 all riders in Vietnam are now required to wear helmets an this is strongly enforced. As such, the driver should supply you with a helmet. If he doesn't - find another one, as you'll be the one stuck with the fine. Remember : always agree on a price before you set off.
By double-bike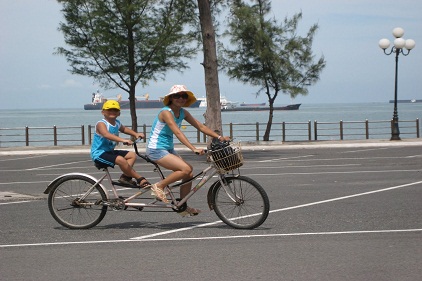 Xe đạp đôi or double-bike (tandem bicycle) has been popular among youth and teenagers of Vung Tau. You can see groups of at least four riding along the windy and green streets and along the coast. A standard double-bike can carry 3 people in which 2 take the ride. You can rent a double bike at the Front Beach Area beside Children Cultural House or on pavements along the Back Beach near hotels area.
Walking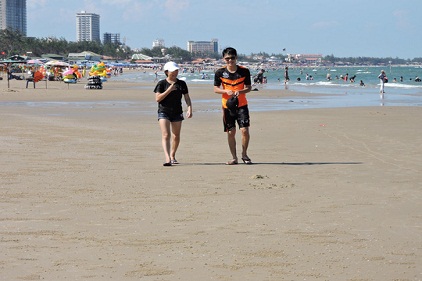 Vung Tau is rather small in size, so don't hesitate to take a walk. Recommended ways are : Bacu street (the city's downtown), Do Chieu Street (food center), Trung Trac and Trung Nhi Square, Front Beach park and pavements along the coastline. The only drawback; foreigners are constantly sought after by motorbike drivers, especially if walking alone.