Thien Cung Cave is considered the most beautiful primitive cave of Halong Bay with complicated interior structure, many floors, and high ceiling. Thien Cung Cave is located on Dau Go Island and makes visitors the impression of being in a heavenly world.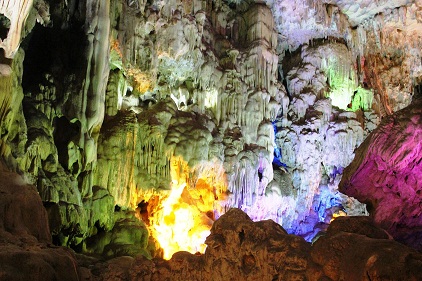 The opening entrance to Thien Cung Cave is perched in the middle of the mountain which requires the visitors extra efforts in hiking up here. After entering a narrow gate, the grotto's 130-meter-long girth opens up. You would be surprised by a large space inside the cave that the further you walk, the more beautiful formation of stalactites come to your eyes.
Thien Cung Cave is at the height of 25 meters above the sea level. Visiting the cave, tourists will feel like visiting an art museum with variety of sophisticated statues and reliefs. In the center of the grotto, there are four big pillars propping against the roof. On the east wall of the cave, there is a grandiose and imposing picture with characters of tales.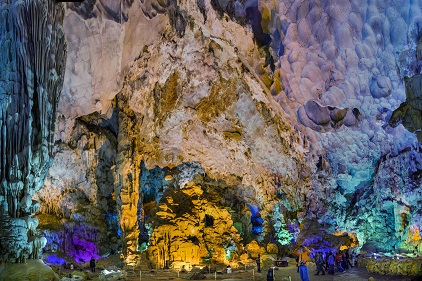 On the north wall of the cave a group of fairies seem to dance and sing in honour of the wedding. Under the immeasurably high roof, stalactites make a natural stone curtain. Somewhere there is the sound of a drum beating, but it is actually just the noise made by the wind blowing through stone.
Make full use of your imagination to create pictures of fish schools, flocks of birds, and the daily life of people from a giant natural rock pillar all naturally sculptured by stalactites inside your mind when you come to the center of the cave.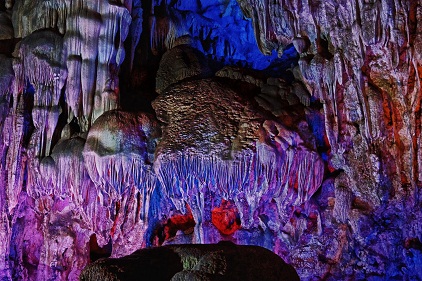 Above your head, on the ceiling of Thien Cung Cave, amazing rows of stalagmites drooping through million years that create colorful pictures and melodies thank to the light and the wind flowing inside the cave.
A tour of Thien Cung takes about 1 hour to complete and there are no facilities to assist those with difficulties in climbing.