Trang Tien ice cream is well known for its special flavour, which a countless number of Hanoi generations have a passion for. Visitors who have an opportunity to visit Hanoi and enjoy Trang Tien ice cream will not forget the distinctive feature of Hanoi's culinary culture of standing and eating ice-cream.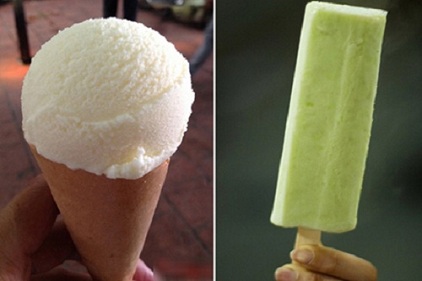 When the Trang Tien Ice Cream Shop first opened in 1958, there were only two flavors of "ice cream on a stick."After the war ended in 1975, there are more flavors, including chocolate, green bean, green rice and the shop started selling ice cream cones and ice cream served in cups as well as popsicle ice-creams. The Trang Tien ice cream always win customers' satisfaction because of its own flavors. Despite famous brand, Trang Tien ice cream price is very cheap for anyone.
No table, no stool, dinners in Trang Tien shop just stand and enjoy a cool sweet flavor smelling in the tongue. The Trang Tien ice cream is "charming" not only to Hanoians but also foreign tourists who visit Hanoi capital can not resist the attraction of this kind of simple food.
The Trang Tien Ice Cream Shop is never lack of customers, rush hours are usually in the afternoon. In every afternoon, buyers often queue a long line from inside house to the road. Sellers work hard but can not meet all demands of "the kings".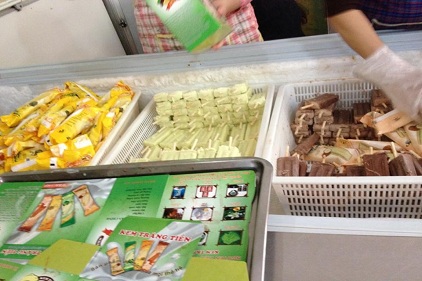 Buying ice cream at the shop has become a tradition for generations of Hanoians, who say the shop reminds them of the post-war period when shopping was hard work, requiring hours of waiting. People from across Vietnam still flock to the original shop at No. 35 Trang Tien Street in Ha Noi for the special icy taste that has become a symbol of the old capital city.