Banh trang nuong is a famous snack in Dalat that you should not miss when traveling to Dalat. The hot cake not only helps people dispel the cold in a Dalat's night but also you can enjoy the delicious taste.
It's kind of the Dalat version of a pizza. Kind of, but not quite.
It's rice paper that's barbecued with a mixture of egg, dried baby prawns, sweet and spicy sauce and chopped spring onions.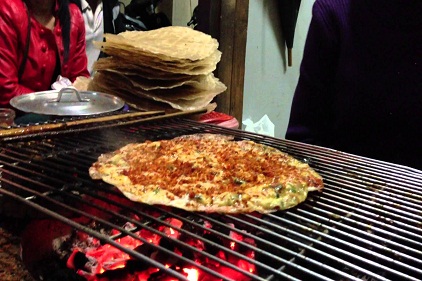 Ladies sit on the footpath tending to banh trang barbecuing over little charcoal braziers. Hunkered down on tiny stools, the banh trang ladies prepare the little pizzas, some using an egg mix squirted out of a plastic sauce bottle. When they're cooked, a giant chopstick is used to roll up the pizza. Once rolled, it's wrapped in a square of newspaper and handed over.
Banh trang are very moreish. Which is OK because they're only VND10,000 each. That's about 50 US cents.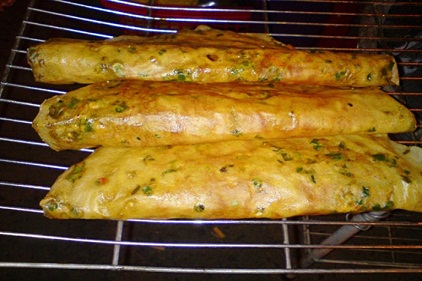 Where to eat:
Da Lat night market
61 Nguyen Van Troi st, Da Lat, Lam Dong. A grilled rice paper with egg here costs from 8.000-10.000vnd depends on your order.
Mrs.Dinh at T-junction of Hoang Dieust and Tran Nhat Duatst, Da Lat, Lam Dong. (10,000vnd per pie)
Mrs.Hoa at 56 Thong Thien Hoc st, Da Lat, Lam Dong. (10,000vnd per pie)