Banh Hoi Long Heo Phu Long is one of the most famous dishes in Phan Thiet. If you have a chance to travel to Phan Thiet, you should not miss to try this delicious food.
The dish includes: banh hoi (fine rice vermicelli), pig's chitterlings, rice papers, vegetables, and dipping sauce. At the first look, people may think Banh hoi Phu Long is simple, but the process is so elaborate. To get Banh hoi which you enjoy contentedly, the producer has to choose the good rice, making the vermicelli spotlessly and dry. Pig's chitterlings, especially, the stomach has to be cleaned and got rid of bad smell. The sausages are fine, when setting to the tables, good smell will come out, and extremely stimulating our taste.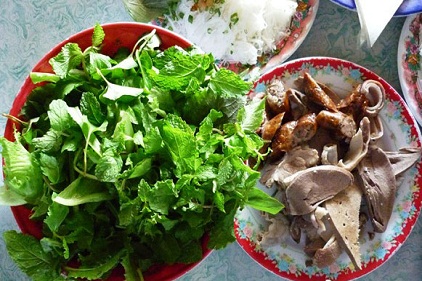 Banh hoi with Pig's chitterlings is often used in weddings, parties or breakfasts. When eating, you should roll up rice papers with pig's chitterlings, vermicelli, vegetables in the middle, and then dipping it in special lemonade fish sauce. The strange flavor, which has sweet lipid of pig's chitterlings, sweet taste pervaded with a little sour taste of the sauce, and dissolving with salad, makes eaters highly pleased.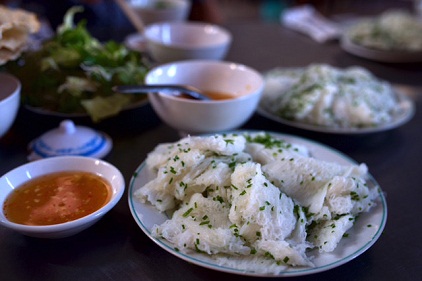 The origin of Banh hoi with pig's chitterlings was from Lua village - Phu Long (now, it is Ham Nhon commune, Ham Thuan Bac district). It is one of the typical specialties of Binh Thuan in many years. The process's secrets are carried "from father to son". Nowadays, it becomes a producer, specializing in supplying for specialties restaurants in the area. Tourists can enjoy this special dish in the coastal city. However, if people want to enjoy the right native taste, they should come to Phu Long, about 7 kilometers far from Phan Thiet. There are approximate 20 restaurants nearby each other in both side of the national highway 1A. The transportation vehicles from North to South go by very mornings rarely miss the chance to enjoy this food. On Saturdays, Sundays, and big festivals, guests come here crowdedly.
With only a small amount of money as the popular prices or the double prices in better restaurants, guests will get a good meal. However, wherever they go, many people still want to come to the restaurant on 40th Tran Phu Street in Phan Thiet. The warm delicious taste of Banh hoi is about the sauce, so most of the restaurants have their own recipe secrets to affirm their reputations.