Cua Dai is one of just five Vietnamese UNESCO World Heritage Sites offering an unrivalled seaside escape from the ancient streets of Hoi An. This 3km stretch of fine white powdery sands positioned just north-east of Hoi An make Cua Dai Beach the perfect place to easily find your own patch of paradise. The water is very clear with tropically blue waves that are gentle enough for swimming and floating around. There are even changing huts on the beach along with a few bungalows here and there.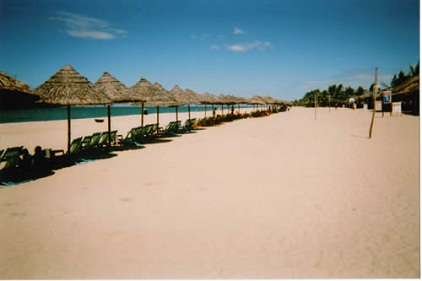 There are also plenty of great seafood restaurants located around the coast so its worth staying for dinner and enjoying fresh dishes served up from the vendors lining the beachfront. Cua Dai is another great reason to visit Hoi An where you can soak up all the celebrated cultural and historical sites then head up to the beach and experience what is often claimed to be Vietnam's most stunning coastal shore. Crystal blue seas and deserted white sands like this are hard to find anywhere else in Vietnam.
Enjoying Cua Dai beach does not come for free and you will be expected to purchase a drink or some fresh fruit from one of the local hawkers, especially if you are not renting a sun lounger. It's worth heading to Cua Dai Beach during the week when the sands will be virtually deserted. Weekends, however, tend to get busy. Its also best to visit from April to August when swimming is safest.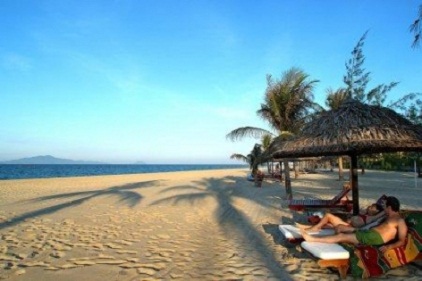 There are a few high-end resorts and other budget accommodation located within the vicinity should you wish to stay for longer. To get to Cua Dai, fly into Danang International Airport then catch a taxi. It takes around 30 minutes to get to the beach and if you are heading from Hoi An then the taxi should take no more than 10 minutes.
Wide and lengthy, Cua Dai is a very beautiful beach with sloping soft sands situated 5km away from Hoi An in Quang Nam Province. Cham Island can be spotted in the distance on a clear day with its willow trees providing shade to enjoy the view. Its nice to arrive at the beach at sunrise and watch the fishing boats cast away for the day selling their catch later to the restaurants and hawkers lining the beach. Its easy to find your own private spot and set up for as long as you want as the size of Cua Dai ensures everyone can find their own space.
There are a few water sports set up at the beach along with plenty of deckchairs, parasols and even a lovely line of trees giving shade, so you don't need to worry about spending too long in the sun without being able to cool off. When visiting Cua Dai you can expect to be offered a regular stream of souvenirs, fruit, drinks and other goods from the beach traders, prices will be much higher than elsewhere but there is certainly plenty on offer if you are in the mood for a purchase.