Phong Dien floating market is not only a palce for selling and exchanging products but also a popular attraction in Can Tho. Phong Dien floating market has many different features compared to Cai Rang floating market.
Phong Dien Floating Maket is about 20 kilometres southwest of Can Tho, the best floating market in Mekong Delta. This market is usually open at around 4-5 am when the sun is rising, and up to 7-8 am it starts to close.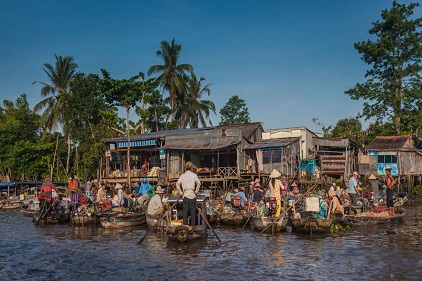 Boat loaded with produce from nearby orchards of the Mekong Delta converge to the floating market. They carry mostly fruits but also coconuts, vegetables and fishes. Buyers are local traders with bigger boats snapping everything by the bushels and resell at local markets or to wholesale dealers from big cities, often for a handsome profit.
Phong Dien Floating Market is open quite early from dawn, like Cai Rang Floating Market. The period from 7 to 8 am is the busiest time here. However, unlike Cai Rang Floating Market closing at about 9 am, Phong Dien Floating Market remains trading activities until the afternoon, not only exchanging agricultural products, but also supplying domestic tools, working and producing tools... Due to this trait, tourists if miss to visit the market in its busiest moment, they can still drop by here late and enjoy idyllic scenery on the river with boats carrying hoes, machetes or baskets are still trading and ready to serve buyers when needed.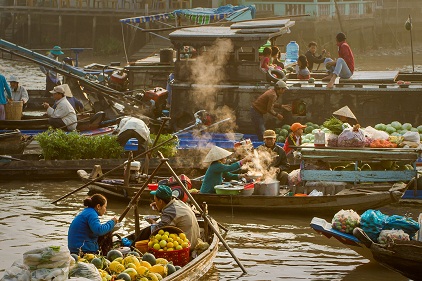 Once traveling Can Tho and dropping by Cai Rang Floating Market, you will find a big difference between Cai Rang and Phong Dien floating markets. Not only selling agricultural products, working tools, Phong Dien Floating market also has a gasoline station, department-store boats, mobile tailor "shop", machine repair shop open during the day as markets on the ground ..., making Phong Dien Floating Market so special and always bring a lot of amazing sense for tourists at any time of the day.