Tra Su Indigo Forest symbolizes for the beauty of An Giang's flooding season with flooded mangrove forest habitat and abundant flora and fauna. Tra Su Indigo Forest attracts many domestic and foreign tourists by the natural and tranquillity beauty.
Tra Su Indigo Forest is located at Van Giao Commune, Tinh Bien District, An Giang Province, Tra Su is a typical flooded forest in the Southern region. With an area of 845 ha, Tra Su is the home to about 140 plant species, 11 mammal species and 23 fish species, including rare species which have a great value in science.
September and October is considered to be the best time to visit Tra su indigo forest because it is flooding season, the forest is incredibly beautiful at this time.
Go to Tinh Bien district, An Giang province, about 100 km from Long Xuyen town. You will see a red soil road leading to the Tra Su indigo forest. Along the road are immense rice fields and tall palm trees. You will see colorful ducks along the road because farmers dye their ducks in yellow, red, green, purple ... to identify their ducks. Arriving at Tra Su, you will have to walk from the parking lot to the forest gate. Along the sides of the road are lotus ponds and lush green trees.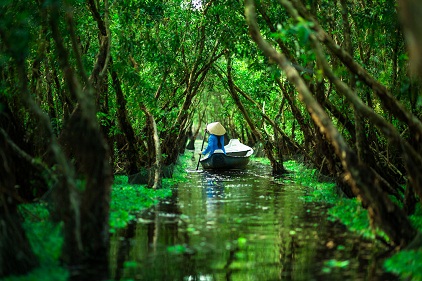 During flood seasons, almost every daily activity of delta residents is attached closely to the immense river. It is easy to catch the peaceful, simple sights of local kids playing in the water or of fishermen professionally casting nets.
However, the western waterways sight is considered most beautiful at sunset where rows of palm trees are reflected charmingly upon the falling sun. Tourists can also participate in picking lotuses and caltrops along the bank of Vam Nao River.