Cai Rang floating market is one of three largest floating market in Can Tho. The unique feature of Cai Rang floating market is selling all kind of fruits that are specialties in the Mekong Delta. And one of the most interesting sights in the Delta are the floating markets and associated river life.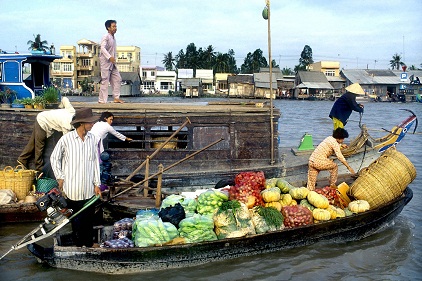 The floating market came into being by the habits and diverse and rich garden products of people living near rivers and canals. There are many ways to exchange goods, but in Mekong River Delta people often use boats as major transport and all trading activities take place on boats.
Since then, Cai Rang Floating Market in particular and floating markets in Mekong River Delta in general is formed. Interestingly, these floating markets are often organized at the junction of rivers. There, the water level of rivers is not too deep, and river surface is not too wide, which is convenient for boats to moor.
Every early morning, hundred boats gather together where their owners start to sell agri - products. To be recognized easily, they hang out product samples on a long bamboo (called Cay Beo) in front of the boats, so that they do not need to cry their wares as in mainland market.
Cai Rang Floating Market is open all day but it is busiest from sunrise to about 9am. The main items sold there are farm products and specialties of Cai Rang Town, Chau Thanh District and neighboring areas. Every boat has a long upright pole at its bow on which samples of the goods for sale are hung.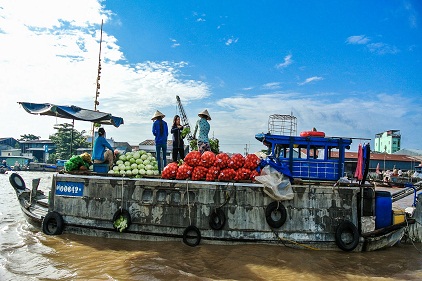 Each boat is loaded with plenty of seasonal goods. Activities at the market are also an occasion for tourists to study the cultural aspects of southerners. You can see the market in the distance, it does not look like much, just a mass of boats. The boats all display their wares on a mast so you can see what they have available.