Like the characteristics of people in Quang Binh as rusticity, honesty, chao canh is unsightly and gaudy as Pho in Hanoi but its taste is very unique and strange. Central region people have familiar with this dish which people can eat everywhere in Quang Binh.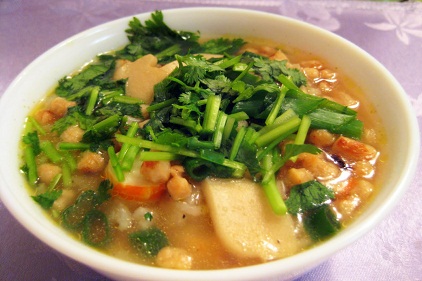 Someone called porridge bread soup or bread soup Quang Binh by its component fibers such as rice cake. Simple and not elaborate, extensive fiber wheels are handmade, from kneading, rolling, cutting it pretty thin, thick, hard. Add broth thick with a combination of fish, shrimp, pork…
When serving guests, soup broth is sprinkled onions, sliced ​​aromatic cilantro. Broth soup served with shredded green cabbage feels fleshy, pungent spicy to enjoy. In particular, some people also ate porridge soup with spring rolls for the more exotic.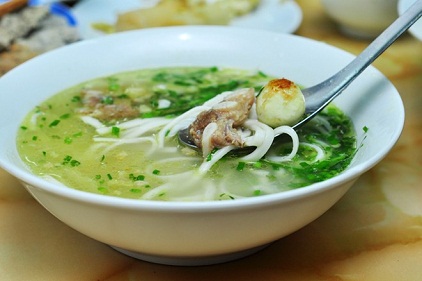 A bowl of porridge soup with Quang Binh style normally is served with fried cake. Enjoying a piece of fried cake on a sunny morning, then eat soup and fish eat, pork,… you can listen the old story about Cao Ba Quat met Nguyen Ham Ninh in Quang Binh on the way to capital to attend a national exam. Mr. Cao Ba Quat not only liked the landscapes in Quang Binh but also was interested in porridge soup.
Porridge soup is the simple name but it is a symbol of food culture in Quang Binh. You should never miss the opportunity to enjoy the porridge soup when visiting Quang Binh.