Banh canh cha ca is famous in Trang Bang, Nha Trang, Phan Thiet but the taste of this dish in Phan Thiet is the most special and delicious.
Thick noodle soup here is a perfect combination of thick rice handmade vermicelli and delicious pork - based broth. The broth is made from simmered pig's bones and minced pork. the local people have thick noodle soup for their breakfast treat.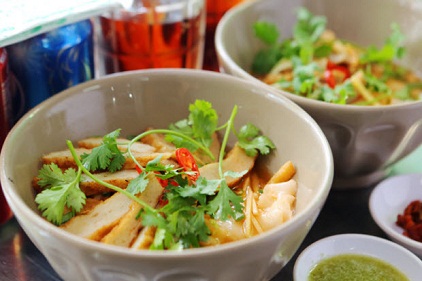 The secret why the broth in banh canh is unique, is that fresh fish like mackerel, flathead, cobia which are caught from the sea in Phan Thiet, are added into soup. Besides, adding a little of mushroom also increase the slight sweetness and stimulate the taste buds.
"Banh canh" is often served with "cha hap" (steamed minced fish) and "cha chien" (fried minced fish). Customers can choose "cha chien" if they like the fat and chewyness, or if they prefer the tasty, fatty and spicy minced fish, "cha hap" is the best choice. A bowl of hot thick noodle soup will be more attractive and delicious when it is added in a little pepper, cilantro, and fish sauce.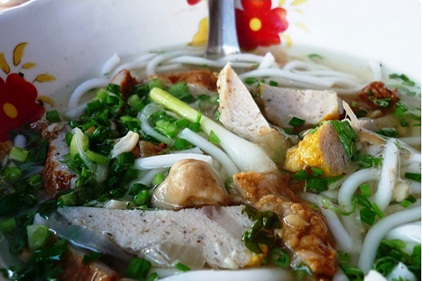 Being considered as an "affordable" dish, "Banh canh cha ca" can be easily found out in every street in Phan Thiet. In order to serve the variety of customers, owners have to create different types of "Banh canh" beside the original one.
Depending on customers' favorite, they can have a chance to choose cooked fish, mushroom, quail eggs, minced pork meatball, or bread …to add in "Banh canh".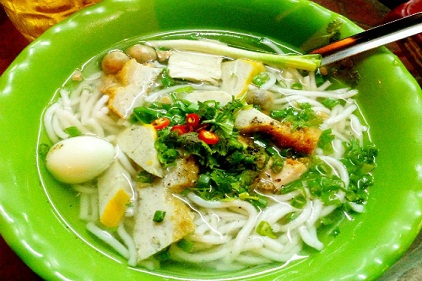 In addition to a number of major spices, fresh fish caught from the sea, which are added into the broth, has created a unique taste for "Banh canh" in Phan Thiet ".