Ba Be lake is the largest fresh water in Vietnam so it provides a huge source of fresh fish. And grilled fish is the most famous dish and become a specialty of Ba Be Lake.
To get the grilled fish, the people here have to go through a process of processing the fish, though not hard but it takes time. Fresh fish is selected the uniform, harvested intestine removed and washed, then cooked in that place. Then people use bamboo splint to form clamps, each clamp has about 8-10 fishes. Bring the fish clamped to dry in the sun exposure. Exposure of about 3-4 is sunny.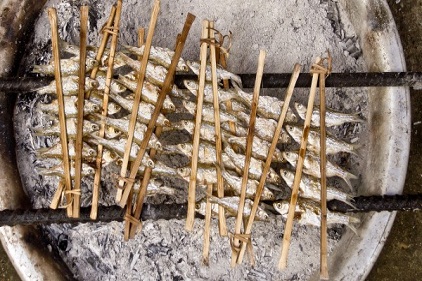 When eating, people simply remove them from bamboo splint and using alcohol to bake (like grilled squid), or to both clamp fish grilled over charcoal bearing (charcoal grill fish will taste better). Needless grilled fish items too closely because once already. People just grilled fish cooked to profile. Bake the fish thoroughly dried food will be less bitter and delicious.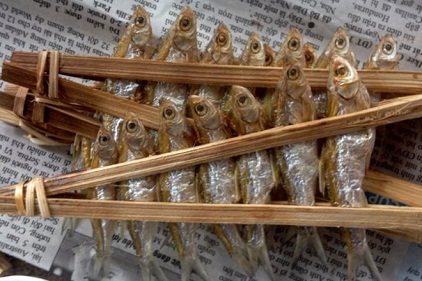 Nothing like sitting lakeside favorite Ba, sip dot chili grilled fish plate with corn few drinks. Fish taste aromatic, fleshy meat and chewy. Spicy corn alcohol but still tastes sweet spot stalk tongue here somewhere. Along scenic Ba Be, elves and uplifting than any other wired high wheels.