Banh tet is traditional cakes that people in the South usually use in Tet holiday. And Banh tet la cam is one of the most specialties in Can Tho because of its unique taste and color.
This kind of Banh Tet has lovely purple color around because sticky rice are soaked in purple water extracted from leaves of magenta plant. Inside of the cake, there are tasty ingredients such as mung beans, pork, dried shrimps and salted egg yolks. All things are tightly wrapped in banana leaves and cooked for hours.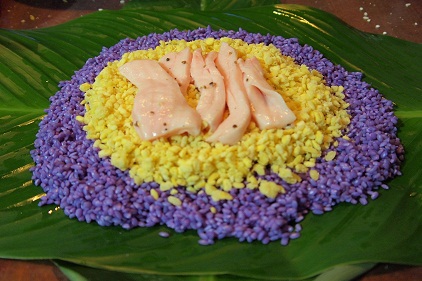 To achieve a beautiful cakes and delicious, the choice of materials for the cake should be very careful and fussy. Type the kind of sticky glutinous cake is not mixed delicious rice, glutinous grain plump must not cringe, leaves are immersed in water and shakes. Leaves mixed take fresh water is leaf wilt not new for beautiful cake out color. Sticky after dipping is fried with coconut milk, seasoned with salt, sugar, fried on the fire about 1 hour for color and leaf weaving coconut sticky rice seeds soaked, then cooked for about 30% of new packages. Saute well as an important step. If the country data, bread dough, not tasty.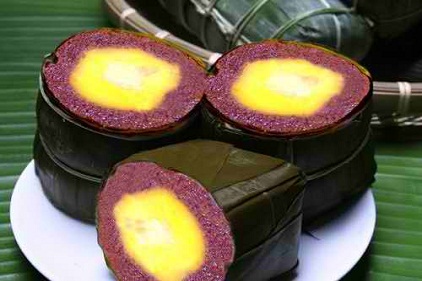 Human special cake made from ingredients to delicious like cutlet fillets cut into pieces with his thumb dipped in spices to infuse enough, salted duck egg yolk, mashed with green beans. Banana leaf rice cakes are not too young or old; clean, without basting oil because coconut milk in cooking secrete sticky granular enough to do when cooked glutinous sticky leaves.
Banh tet la cam is boiled for about 4 to 5 hours, in time to feature module for wheeled fire that cooked evenly. After the fish out, tet delicious cakes can be used within 7 days. Want hot dish delicious cake tet asked Tet, people here have to get through Eve to do. The whole family gather together each person a job, also making festival atmosphere of family more than cozy.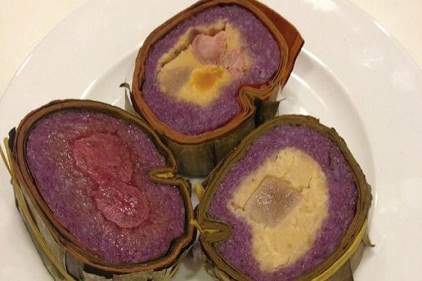 Of sticky pink purple highlights green bean class stocky, fat meat and salted egg yellow translucent nursery. And while enjoying cakes mixed rive leaf that one can not forget the taste of the plastic layer of sticky rice with sweet and tasty meat fleshy characteristic of salted duck eggs, it's different from Earth cakes made from white beans, black beans with onion's, the traditional banana. Also purple leaves also make cake tet shakes more than beautiful.
The cake is cut and laid out on plate; it looks attractive with different colors such as green, red, purple, yellow, and brown.