Hanoi has many attractions with romantic beauty so tourists should not miss catching nice photographs at one of famous Hanoi's photogenic spots with their breathtaking natural settings.
1. Hoan Kiem Lake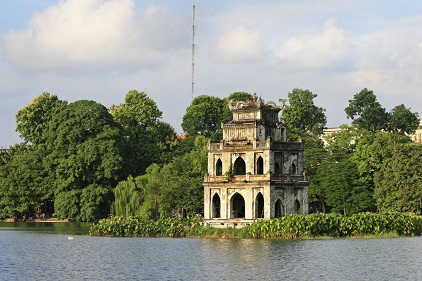 If tourists want to keep tranquil, gentle beauty of Hanoi, Hoan Kiem Lake with green trees around lake as well as red The Huc Bridge and Turtle Tower floating in the middle of the lake is the most stunning place. When the sun goes down, sparkling lights on the trees will sparkle just for photographers to catch such precious moment on the verge of the sky turning twilight. And in the autumn, Hoan Kiem Lake brings a strange beauty with chilly winds; tourists will feel the smell of dry leaves mixes with water and land. This point is also the time when red Loc Vung trees drooping in the surface of lake. All makes itself being a vividly colorful background to take photographs with.
2. Hanoi West Lake
Another wonderful spot for taking photographs is West Lake and the best time to visit is during the summer when the brilliant lotuses paint a corner of the sky with bright pink and fresh green. Once heading straight on West Lake's lakeside road, tourists will eventually catch sights of pretty girls wearing all kinds of clothes from mini skirts to the traditional dress 'ao dai", making the lotus pond becoming consistently lively. There is also a whole service leasing equipments such as small boats, lotus bouquets and "Yem" (a unique ancient Vietnamese bodice) for photo shoots with reasonable prices. Apart from taking picture here, tourists can visit a local house to watch process of making lotus fragrance tea.
3. Thang Long Royal citadel (on Hoang Dieu street)
Thang Long Royal citadel is considered as one of the most important vestiges in Vietnam. It was built and expanded during Ly, Tran, Le and Nguyen Dynasty. However, through many wars, it had been damaged seriously. In 21th century, Thang Long Royal citadel was restored and in 2010 it was entitled on UNESCO's World Heritage site. When coming to Thang Long Royal citadel, you will be lost in the ancient world with the majesty of North Gate and Hanoi flag tower. You can take a photo at the front and behind of Doan Mon Gate. The photo style here is classic and traditional with the familiar image of young girls in Ao Dai.
The citadel is far from Ho Chi Minh Mausoleum more than 1 km, the main gate of the historic vestige is on Hoang Dieu street.
4. Long Bien Bridge
Famous not only for being a living historical relic but also for its great architecture designed by French architects from Daydé & Pillé, Long Bien Bridge is an ideal spot which tourists should not miss. Photographers come here regularly to bring history in their photographs with the typically ancient brown of the past on the rust screws from the remaining spans. On the dry season, the alluvial patch below the bridge becomes an exceptionally photogenic spot with spectacular natural scene filled with rows of green banana tress and yellow maize
5. Some streets with peaceful space
Hoang Dieu, Phan Dinh Phung, Dien Bien Phu are three streets surrounding Thang Long Royal citadel. They are famous for shady long-lined trees with peaceful and quite space which is difficult to find in Hanoi. The great time to take photo here is in the morning when the sun rises and everything is fresh in dew. If you are a romantic one, just come here in August when the leaves start to change into yellow and fall down.
If Hoang Dieu, Phan Dinh Phung and Dien Bien Phu are the most beautiful roads in Hanoi, Kim Ma is considered as the most romantic street. It has different beauty in each season. Every day the street welcomes many youth and couples to take photos