The top things that you should do when traveling to Mekong Delta
Mekong Delta is not famous for floating market but also for the fresh fruit and food with many delicious dishes. When traveling to Mekong Delta, there are a lot of interesting things to experience so you can make fun and create the most memorable trip in your life.
Visit fruit orchards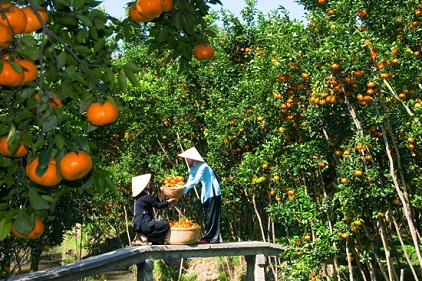 The year-round lush fruit gardens are the specialty of the southern provinces. These orchards offer different fruits depending on season and time. Summer is usually the main fruit season attracting most tourist. There are many orchards for you to enjoy the feast such as My Khanh in Can Tho, An Binh Island in Vinh Long, Cai Mon in Ben Tre, and Cai Be in Tien Giang.
Immerse in the endless green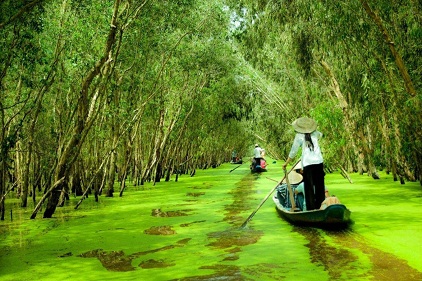 Travel out of big cities, the endless green of rice paddies slowly comes into view. Roads, houses, lakes, rivers and canals are always covered with a cool fresh green. The color of palm trees, rice fields in An Giang, the so green of Tra Su Cajeput forest, the greenish mangrove forest in Tram Chim National Park, these many greens are blended together and paint a picturesque scene of the typical Vietnam countryside that you cannot find in anywhere.
With the terrain mainly zigzag canals surrounded by the river, travel by boat is an ideal way to explore the local way of life. The cool breezes and the peaceful atmosphere will bring you unforgettable impressions.
Remember to choose the cruise itinerary which includes some orchard visits, you will be given the chance to pick the fruit yourself.
Become a fisherman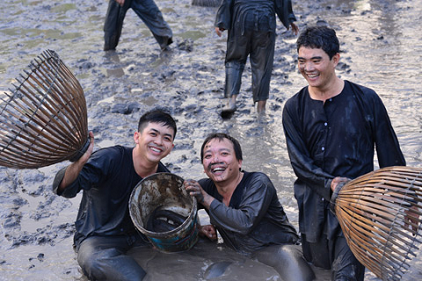 Wearing famer's costumes and bailing the water from the pond to catch fish. These activities are considered a cultural characteristic of the region. To experience local way of life and become a true Mekong resident, you can join in such hands-on experiences. There are various ways of to catch fish: by fishing net, rods, bamboo traps or just by hand. Your reward will be a meal filled with fresh caught fish. The feeling of trying to find and catch fish under mud using hand or some local tools is simply thrilling.
Listen to the traditional music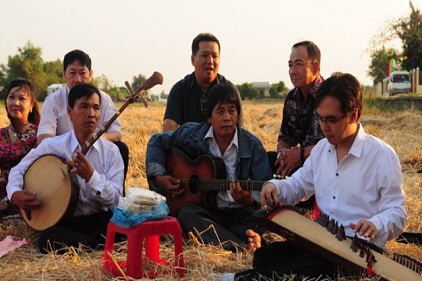 It would be a big regret if you miss some music of Don ca tai tu. The typical folk art form came to life of the Southerners about more than a century ago with the only purpose was entertaining local people after hours of hard works. A song Don ca tai tu is accompanied by several music instruments of two-stringed vertical violin, long zither, monochord zither and moon shaped lute. Later monochord zither was replaced with acoustic/electric guitar with scalloped fretboard. It's said that Don ca tai tu has own musical and magical power which the southern Vietnamese people poured their heart and soul into. Guests can enjoy the traditional music at anywhere and anytime throughout the Mekong region, but particularly when on a boat cruising along the river or on a full moon night.
Stroll around the floating market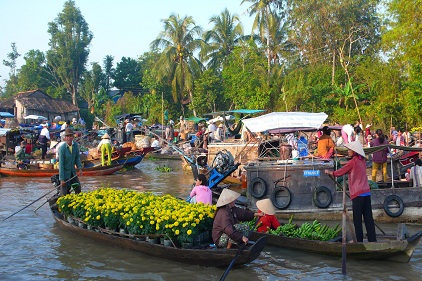 Floating market is a special feature of the Mekong Delta. Market is on the water where hundreds of boats filled with local merchandise and popular fruits gather. Each of boats have a couple of poles which hung the types of products that sell. So customers just look at the pole to know on which boat has what they need or not. Morning is the busiest time of these markets.
Some famous floating markets are Cai Be located at Tien River in the intersection of Tien Giang, Vinh Long and Ben Tre provinces, Phung Hiep in Hau Giang, Chau Doc in An Giang, Cai Rang and Phong Dien in Can Tho.
Cross monkey bridges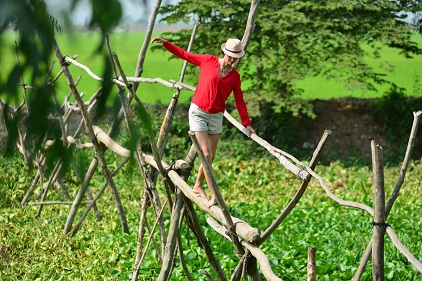 For a convenient transportation through small canals, local people build this type of bridge. They are typical made of a single bamboo log with handrail on one side. It looks like only monkey could make it across this scaring bridge. The name comes from the stooped monkey-like posture one may have to maintain while crossing so as not to plunge into the canal below.
Visit bird sanctuary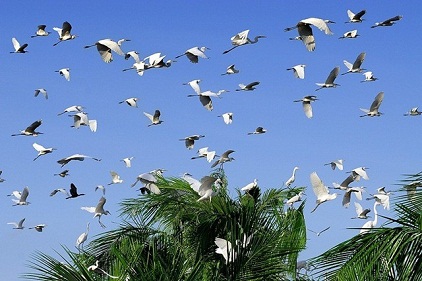 The very first bird sanctuary you should visit is Tram Chim National Park in Dong Thap province. Every year when the rainy season comes, Tram Chim wears a new look filled with the color and wonder of the nature. The park boasts a diverse collection of over 200 types of birds which make up a quarter of the bird population in Vietnam, some have been put in the Red Book. Besides, the Mekong Delta has about 30 bird sanctuaries scattered across the provinces of Tien Giang, Ben Tre, Vinh Long, Tra Vinh, Dong Thap, Can Tho, An Giang, Ca Mau and Kien Giang. There are some sanctuaries have established for a long time covering an area of hundreds of hectares such as U Minh Thuong park in Kien Giang, Ngoc Hien in Ca Mau.
Enjoy hotpot of cyprinid fish and dien dien flowers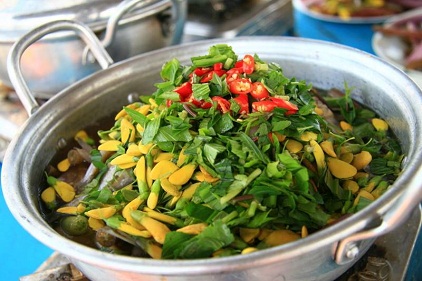 Everyone comes to the region know about this famous hot pot. As the flood season comes, all kind of fish from the Mekong River downstream to the fields to start breeding season. One of these fish is linh fish (cyprinid) which makes the main ingredient for the hotpot. Small, fresh and fatty fish are cleaned, removed the gut then rinsed with water and drained. Dien dien (Sesbania sesban) flowers are just picked from tree, cleaned and put in a basket with other vegetables. The fish is sweet and soft, the flowers is slightly bitter and the soup is sour and fragrant, all together creates a wonderful taste. Don't leave Mekong Delta without trying it. Dong Thap, Long An, An Giang and Can Tho are among the most famous places to try this hotpot.
See more