Banh can is a simple and delicious local food that can be eaten for both breakfast or dinner. So if you enjoy eating local specialities in Nha Trang, banh can should be in your must-try list. Probably you will not forget its cute shape as well as its amazing taste.
The main material in making rice cake base is prepared according to a special formula. Rice is soaked until soft water, and then ground into powder liquid. The secret to the delicious cake, brittle, It is the pancake mix, the addition of a little cold rice powder was dried over sunny. If Khot cake, people use rice flour "fried" (because there used grease) is based on the kind of rice cake "Grill".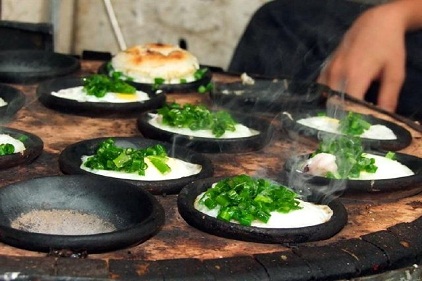 Cake base, people need to use special molds, molds are made from terracotta, and 10 circular holes on the mold surface. And especially pastry base, certain to make charcoal fire on the cake was tasty new features of its own.
First, cake mold makers will put up the coal stove and wait for it's hot. Subsequent, pour the cake will first have to use a stick wrapped in cotton dipped in lard or oil to rub all sides campus, waiting for the hot oil for each tablespoon beginners and finally flour into bread to workers. With this approach, when cooked, we can take the bread out to be easier than the cake will not stick to the mold.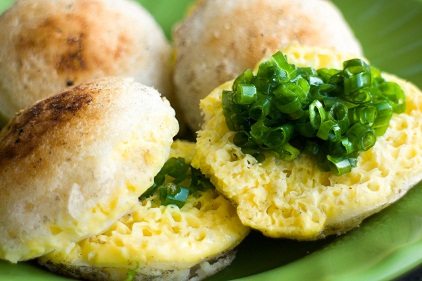 On request, chicken or quail eggs can be added to the batter. Especially, it would be tastier if you chose to add squid or shrimp because seafood is always fresh in Nha Trang.
A serving of "Can" cake has four small cakes served with two kinds of sauce: "Mam Nem" (fermented fish sauce) and "Mam Nuoc" (fish sauce mixed with mouthwatering lemon juice, garlic, sugar and red pepper). You can choose one of them, then add shredded green mango, stir fried spring onion, chill into the sauce. Sometimes minced pork balls are served on the side.
For visitors, sitting waiting for the cake base "oven" re extremely excited. By that time, you'll be free to sit looking at each operation "virtuosity" of the baker. Looking at the circular cake mold for every moment of delicious cakes and fragrant feel more love the simple definition of the culinary culture of Vietnam.
People who visit Nha Trang should pass by Le Hong Phong, Vo Tru, Van Don or Nguyen Thien Thuat streets or Dam Market to taste this rustic and special dish of the coastal city.