Khau Thuy cake is a specialty food of Bac Kan and an indispensible food in Long Tong festival to worship the gods and hope for good weather and harvest.
Khau Thuy cake is round cake as quail eggs, and its color is yellow because of molasses. It is very sweet, fragrant, and crispy. Moreover, Khau Thuy cake brings its unique taste of Tay People.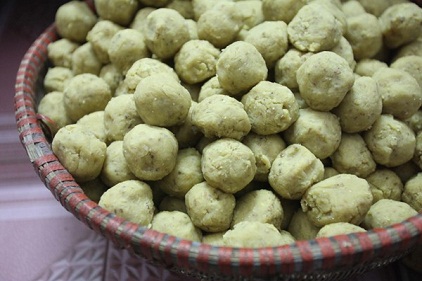 Entering December, the Tay people begin to prepare materials for Khau Thuy. A delicious cakes need a lot of materials, multiple stages and quite picky. The main materials are water hyacinth, taro and "vong hoa do".
After boiling, all materials are pounded in mortar as rice cake and until having white foam. To pound the cake is not a simple work. After pounding, wait for the cake to be cool, and then cut pieces. Dried all to wait until the New Year or the festival, the cake will be brought to eat.
The last stage to complete this cake is soaked in sugar. To keep a long time, people put into sealed plastic bags to retain the flavor.