Banh tam bi is a specialty and one of the most famous rustic food in Can Tho. This cake is very delicious with the harmonious taste between sweet and saltiness.
Anyone eating banh tam bi for the first time cannot fail to notice its range of tastes all at the same time: sweet, salty with undertones of sourness and spiciness.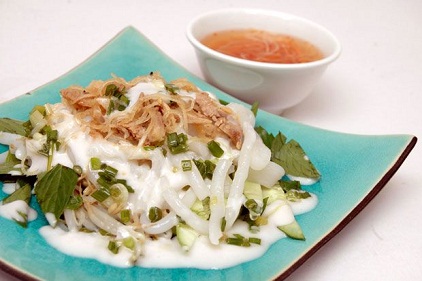 Worm cake is thick and a bit harder compared to another "udon", made from rice flour and served without any soup. It's hard to describe the taste of banh tam bi, it's a combination of different flavors: sweetness from rich coconut sauce and fish sauce, savory from pork skin, cooked pork meat, tasteful greased onion, mild from worm cake, freshness from cucumber, aroma from Vietnamese basil...
Banh tam bi is served with spicy sweet fish sauce and coconut sauce.
The cake is smooth and white and is fairly tough. In the past people used to shape it with their hands, so the strings were not equal sized, but now, with the use of cutters, it has a uniform shape.