Bun mam is a robust Vietnamese soup that's packed with contrasting flavours, textures and colours. Pungent, fishy, sweet, sour, dark, vibrant, silky and crunchy, this is a soup that challenges your taste buds.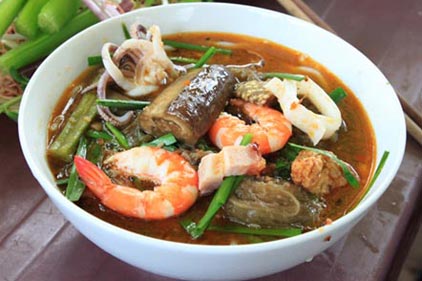 Bun mam is a southern Vietnamese dish, thought to have originated in Soc Trang Province, in the Mekong Delta. This vast area, to the south of Saigon, is flat, flooded and fertile. A large quantity of all Vietnam's rice, fish, fruit and vegetables are grown here. A bowl of bún mắm is a good cross-section of all this produce: in many ways, this soup represents the 'Mekong in a bowl'.
Bun mam is specifically a southern Vietnamese dish, and just like most other noodle soups, you'll find it at both sit down restaurants and portable street food stalls around town. There's nothing subtle about bun mam: it's bold and confrontational – each flavour and texture is in a fight to dominate your palate. Such is the density of bún mắm, that you'll discover something new each time you try it.
The base of any bowl of bun mam (bún mắm) is a dark colored broth prepared with fermented fish sauce (which I believe is similar to Thai pla ra).
The fermented fish sauce gives the soup broth a well rounded, balanced flavor, and it's honestly not nearly as fishy as it might sound or smell.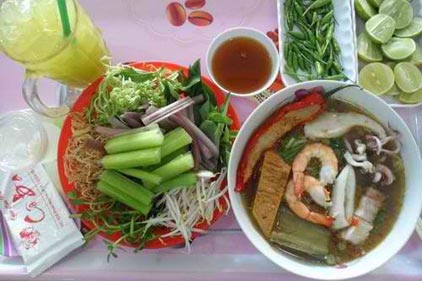 Along with the broth, bun, or rice vermicelli noodles, are loaded into the bottom of the bowl, before the entire assortment of meats like squid, prawns, and pork are all scattered on top of the noodles.
Finally, a slice or two of eggplant, which soaks up all the broth, is another essential component of a bowl of southern Vietnamese bun mam.
In addition to the glorious fish flavor, the broth of a bowl of bun mam is usually sweetened with tamarind juice and sugar.